Win Tickets ($40): Backfence PDX: Roulette @ Alberta House | High-stakes Storytelling, Hosted by Frayn Masters and Mindy Nettifee
We are giving away a pair of tickets to Backfence PDX: Roulette @ Alberta House on July 8. To win, comment below on this post why you'd like to attend. Winner will be drawn and emailed July 3.
———————————————
From our sponsors: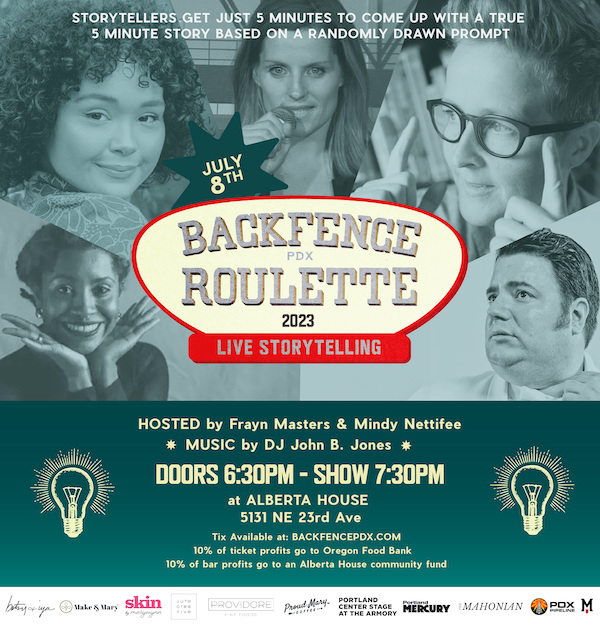 Backfence PDX: Roulette
July 8, 2023
Doors 6:30PM, Show 7:30PM | $20 GA, $34 VIP | 18+
More info: backfencepdx.com
Alberta House
5131 NE 23rd Ave, Portland, OR 97211
BACKFENCE PDX: ROULETTE, hosted by Frayn Masters and Mindy Nettifee, is a high-risk high-stakes night of storytelling. With the spin of a giant gameshow wheel of prompts, storytellers get just 5-minutes to conjure a true story based on the fickle fate of where the wheel stops.
STORYTELLERS FOR THIS ROUND
JASON ROUSE is an actor, writer, teacher. He's appeared in TV, films, commercials. In August, at Rev Hall, he'll direct (alongside Jessica Dart) PHAME Academy students in a stage version of Talking Heads' STOP MAKING SENSE. One fateful summer he worked as a birthday clown.
EMILY HEMSON is a writer, occasional comedian, and very enthusiastic tv viewer. She's got weak British teeth, a deep love for sour candy, and a dog who may or may not contain the spirit of her Welsh grandpa.
KIRSTEN KUPPENBENDER is a standup comedian and show producer who has performed in a multitude of settings with many people, famous but mostly unheard of. She wears overalls, almost exclusively these days.
BRI-SKYE McKIZZIE is a writer, entertainer, event producer, and founder of the BIPOC Collective Stay Litt PDX. In March, she was selected to be a participant at the Onion's DAF Comedy Festival. When she's not creating and performing, you can find her either mothering her child, crying (she's a Pisces with bipolar…there is no god), or googling "What is wire fraud and how can I do it too?"
ASH HERFERNAN is originally from Jacksonville, FL and has carried her love of river cities with her. She was a 2019/2020 Portland Playhouse Apprentice, which brought her to the PNW. She is particularly passionate about performance studies, new play development, and theatre for social justice. She loves to round out a day on her wheels at a Secret Roller Disco.
How does BACKFENCE PDX: ROULETTE work? Each show begins with a giant game show size wheel packed with juicy story prompts. One of our five seasoned storytellers is randomly drawn. To determine the random prompt for their story, they spin that giant wheel! They can play or pass their prompt (once). If they pass, another teller can steal their prompt. Then the risky part… each storyteller has only 5 minutes to come up with a true 5-minute story based on their prompt! It's like we invented a new game called truth AND dare. The audience votes on a winner at the end of the night – both the storyteller winner and one lucky audience member win a veritable bevy of prizes! We'll have some other new surprises for 2023 shows!