Win Tickets ($70): Animals As Leaders @ Crystal Ballroom | w/ Car Bomb, Alluvial, Instrumental Progressive Metal
We are giving you another chance to win a pair of tickets to Animals As Leaders @ Crystal Ballroom on November 1. To win, comment below on this post why you'd like to attend. Winner will be drawn and emailed October 24.
———————————————
From our sponsors: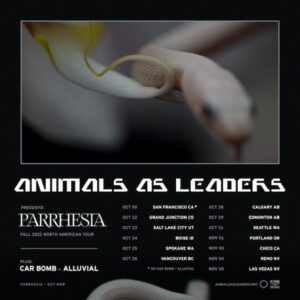 Animals As Leaders
Car Bomb
Alluvial
November 1, 2022
6:30PM Doors, 8PM Show | All Ages
$29.50 ADV, $35 Doors, $39.50 21+ Reserved Balcony
More info: crystalballroompdx.com
Crystal Ballroom
1332 W Burnside St, Portland, OR 97209
"As satisfying in their visceral kick as they are in dazzling displays of dexterity." – Rolling Stone
It might sound strange to associate storytelling with instrumental music. But ANIMALS AS LEADERS jettisoned the rules, limitations, and boundaries of conventional rock music from the start.
Armed with palette-expanding eight-string guitars, rich synths, and pummeling percussive grooves, the trio is beloved by metalheads, aspiring virtuosos, jazz fanatics, and casual listeners alike. As Pitchfork observed, "Animals As Leaders have walked the tightrope between sheer technical virtuosity and actual emotional resonance." Even without vocals, this is intimate, mythmaking music.
The band's diverse catalog plays like multiple seasons of a superb television series, the shows with consistent themes and characters throughout their runs which evolve without sacrificing their most essential elements. Animals As Leaders began as a solo outlet for guitarist Tosin Abasi, whose creative partnership with classically trained guitarist / audio engineer Javier Reyes and Berklee-educated drummer Matt Garstka is built on a shared love of everything from fusion to technical death metal.
The Chicago Tribune called Abasi "the closest thing prog-metal has to an Eddie Van Halen." MetalSucks is similarly enthusiastic. "Tosin Abasi is probably, on some 'objective' level, one of the top ten guitarists of all time," they wrote. "His musical ideas are so creative, so colorful, and so unique relative to everything else going on in their general sphere of guitar-based music, that he just puts everyone to shame." In one of his many appearances on their cover, Guitar World named him among the Guitarists of the Decade. Rolling Stone featured him in their "Young Guns" series. Modern Drummer put Garstka on the cover, a year before he sat in with NBC's Late Night with Seth Meyers.
Steve Vai described the first album as "the future of creative, heavy virtuoso guitar playing." The Aquarian wrote, "Abasi's music has as much in common with Vai as it does Meshuggah, Victor Wooten or Allan Holdsworth." Tosin enlisted Reyes to support the album live, and the pair's creative guitar partnership persists. The music they make appeals equally to fans of Tool, Dream Theater, and Charlie Hunter, audiences as diverse as they are dedicated. Quickly ascending beyond the traditional confines of instrumental rock, the trio boast a unique blend of precision and organic feel.
Nowhere is that as evident as on Parrhesia, the band's ambitious fifth album, arriving in a post-pandemic world after the longest stretch between Animals As Leaders albums since 2009's self-titled debut. Of course, the prog-metal onslaught of the band's early output was never without nuance, gradually expanding over the years with increasingly wondrous shades of melody and immersive ambiance.
"Parrhesia isn't necessarily a reinvention, but it's a sharpening of the knife," Abasi explains. "It's a heavy album with an aim to make each song a clear musical statement. Where previous albums had acoustic guitars and electronic bits, this one skews back to the more aggressive end of the spectrum for us."
A decade on from its release, Kerrang! included sophomore album Weightless among its Best Albums of 2011, alongside milestone platters from Mastodon, Foo Fighters, Panic! At The Disco, and Janes Addiction. The Joy of Motion entered the Billboard 200 at No. 24 in 2014. The Madness of Many cracked the Top 20 two years later, propelled by increasing acclaim. Metal Hammer declared "the virtuosity and sounds" conjured by the "wizards" of AAL "jaw-dropping to behold." Spotify users streamed "Physical Education" close to 13 million times, putting The Joy of Motion single in the hallowed pantheon of fan-favorites like "Cafo," "The Brain Dance," and "Ectogenesis."