Win Tickets ($90): An Evening with SIMRIT @ The Old Church Concert Hall | Punk Rock
We are giving away a pair of tickets to An Evening with SIMRIT @ The Old Church Concert Hall on October 21. To win, comment below on this post why you'd like to attend. Winner will be drawn and emailed October 17.
———————————————
From our sponsors: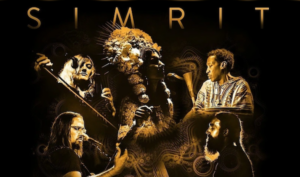 An Evening with SIMRIT
October 21, 2022
Doors 7PM, Show 8PM | $45-$75 | All Ages
More info: events.humanitix.com
The Old Church Concert Hall
1422 SW 11th Ave, Portland, OR 97201
"Imagine that the Aurora Borealis could sing: that's Simrit's voice. Timeless, Strong, and Ethereal as a whale's song." -LA YOGA
"Some artists can bring true commitment to age-old meditations, urging everyone from pop stars to theater audiences to fall in love with the words of ancient sages. Some artists have that presence that both highly engages and soothes, an ear that can hear the resonances that bridge continents and souls. Vocalist and songwriter Simrit, born in Athens, Greece, adopted and raised in the American South, is one of these artists." -ROCK PAPER SCISSORS
"Hypnotic, haunting, brimming with mystery and groove…"
"First of all, I'm such a fan of Simrit. The first time I saw her live I thought – wow she's kind of punk rock. I don't know why I thought that, but that's the element that drew me to exploring her music. Her sense of melody, her energy, and her musicality set her apart. Simrit, to me, is the voice of this new day and age." – BELINDA CARLISLE
For Simrit, singing is not a performance, it is a sacred worship of the Divine. Her voice, her music, and her teaching, reflect this devotion which seems to come from her so effortlessly. This devotion is a gift, a talent beyond any, that will lead thousands into the lightness of being and awareness that is so vital to humanity in this day and age." – SNATAM KAUR
SIMRIT is creating waves with packed theaters and concert halls, chart-topping albums, and raving fans… all powering a palpable musical movement. Transcending genres, the SIMRIT experience centers around lead singer – songwriter, Simrit Kaur, who is of Greek and Egyptian origin.
Born in Athens, Greece, adopted by Greek-Americans into South Carolina as a toddler, she comes from a long line of Greek matriarchal singers that span from her birth mother to her great grandmother, Tula Demetriou, who was a famous Greek singer and actress. At only 16 years old, Simrit's birth mother was forced by her family to give Simrit for adoption. Over time, growing up steeped in the rich musical traditions of many cultures…Simrit's own musical sensibilities emerged from a multiplicity of diverse influences starting with the dark, heavy, and mystical chanting of the Greek Orthodox church choir, in which she sang starting at age five. During this same time period, Simrit began studying piano (where her piano teacher simultaneously instructed her in snare drum). Later, she studied West African drumming, and toured with the Odunde Drumming Company during her education at College of Charleston in South Carolina.
Roots Reggae, R&B, The Grateful Dead, Motown, Mazzy Star, Led Zeppelin, among many others including the traditional Greek music she was steeped in daily growing up, proved deeply influential as Simrit emerged her unique sound. Her studies in traditional Greek dance from grade school through the end of high school…proved to be just as influential, as Simrit studied and danced a variety of different time signatures and rhythms that the traditional Greek dances were performed in, while also learning to sing those songs.
Simrit's musical education is rich and diverse. From singing in the Orthodox church starting in grade school, all the way through high school where she was studying vocals at University of South Carolina with her childhood piano teacher…and then studying some with the classical Indian system of music. She is known for her voice reverberating a sound that is simultaneously ancient and fresh. Decades of study and experimentation with Kundalini yoga deepened Simrit's relationship to the quantum technology of Naad Yoga (the ancient science of using sound to impact the brain's neural pathways and chemicals, eliciting altered states of reality); the effects of which influence her music.
Alongside her band, Simrit creates vibrationally powerful and healing music to impact both positive internal & external change. Inspired by her ancient Greek and Egyptian lineages and her love of slow and vintage fashion…before each tour, Simrit collaborates with visual artists to design headpieces(and dresses) with influences from her ancient lineages to wear on stage— each commanding a strong presence and invoking incredible power.