White Eagle Saloon's Rock the Lot Presents Flashback! | Featuring My Siamese Twin, Wanna Be-52s, Constatn Debauchery & Bad Juju
From our sponsors: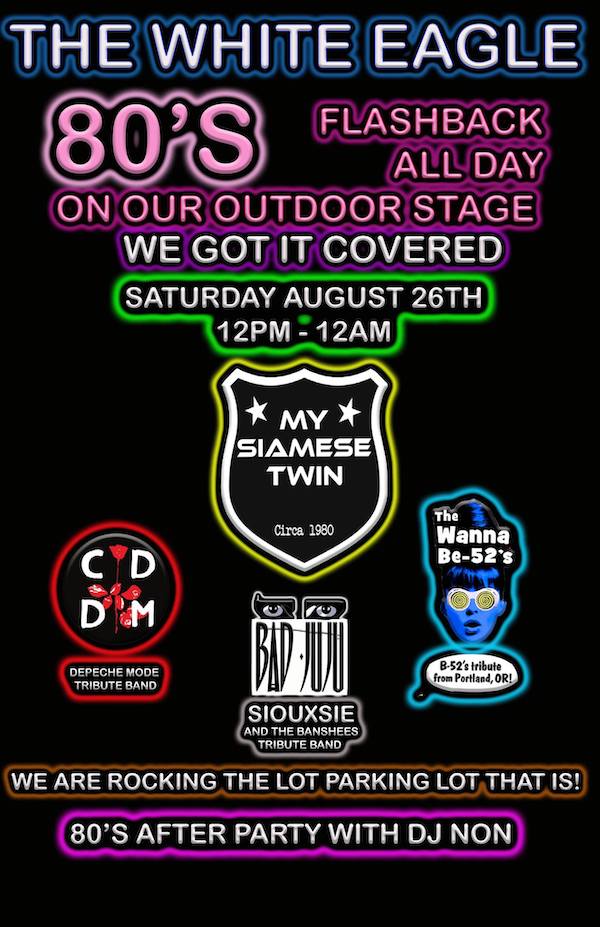 White Eagle Saloon's Rock the Lot Presents Flashback!
August 26, 2023
2PM | $20 Doors ($10 After 8PM | All Ages until 8PM
More info: mcmenamins.com
White Eagle
836 N. Russell St.,Portland, OR, 97227
My Siamese Twin
My Siamese Twin is a Portland based band that plays songs by your favorite alternative bands of the 80s. Bands such as The Smiths/Morrissey, The Cure, New Order, Echo & the Bunnymen, The Cult, The Church, Psychedelic Furs, REM, and many more!
Wanna Be-52s
The Wanna Be-52's is Portland's tribute to the original post punk new wave greatest party band ever! Having rocked the Portland stages for a decade now, with focus on the first 2 legendary albums commonly referred to as the "red" and "yellow" albums, along with dance floor favorites from the original band's top charting hits. You'll be taken on a cosmic trip to space and beyond at one of their live shows!
Constant Debauchery – a Tribute to Depeche Mode
Portland-based Constant Debauchery celebrates the music of Depeche Mode with their energetic live shows. CD takes you on a ride with your best friend, rocking and reimagining the arena anthems, early club hits, and favorite b-sides of the legendary electronic music pioneers. Pick up the receiver… we'll make you a believer!
DJ NoN
80s After Party with DJ NoN of Decadent '80s – Portland's longest running 80s night.