Top Cup Roasters Delivers Specialty Coffee to Your Front Door | Online Subscription, No Contact Delivery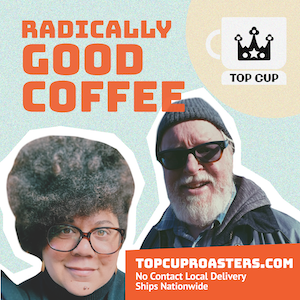 Top Cup Roasters
More info: topcuproasters.com
Top Cup Roasters is an online subscription-based coffee service, roasting specialty coffee and delivering it straight to your front door. No contact needed!
This Black-owned business is run by husband and wife team, Martyn Leaper and Keia Booker. They are artists, musicans, crafters, and design lovers that bring those passions to their business, everyday. Whether it's screenprinted packaging, art-inspired blend creations, or the music in their videos, you will taste and feel the passion behind every bag of Top Cup.
Top Cup Roasters has no contact delivery services in Portland and ships nationwide.
---
PDX Pipeline Free Community Promotions
This is a FREE local listing provided by PDX Pipeline. Do you have a local business and want a free promotion? Fill out our form here: pdxpipeline.com/local