The Reformers Present /SLASH/ @ Movie Madness | Immersive Homage to 80s Slasher Films
From our sponsors: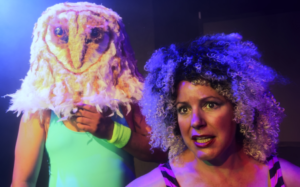 The Reformers Present /SLASH/
October 13-14, 20-21, 2023
7:00 PM, 7:45 PM, 8:30 PM, 9:15 PM
$25 | 15+
Tickets: thereformerspdx.com
Hollywood Movie Madness
4320 SE Belmont Street, Portland
With over a decade of original works, The Reformers return to the season of scares with their newest production /SLASH/, an homage to 80's cult slasher films. Performers will take four nightly audiences on an immersive journey through Hollywood Movie Madness culminating in a viewing of The Reformers' world premier horror film short.
ABOUT THE PLAY A theatrical cult of misfits and weirdos, The Reformers decide to tackle their newest medium – film. But creating a cinematic horror juggernaut needs a star of great magnitude and the group delivers, casting the incomparable drag clown, Carla Rossi…or have they? Packed with strange, creepy occurrences that will leave you wanting more, Halloween just isn't complete without an experience from The Reformers.
DETAILS /SLASH/ offers four performances per night with each show taking approximately 30 minutes. This is an intimate interactive experience with only 25 audience members per show. Recommended for ages 15 years and older. Includes explicit language, themes, and violence.
CREATIVE TEAM: Director, Production Designer and Producer – Charmian Creagle; Writer and Producer – Sean D Lujan; Cinematographer – Chris Brantley; Richard E. Moore – Sound Design
CAST: Geo Alva, Cleo Creagle Lujan, Nate Crosby, Liz Hayden, Pearl Beal-Dickson, Sean D Lujan, Maia McCarthy, Theoddra MonStar, and Asher Smith with special appearance by Carla Rossi
THE REFORMERS are a company of artists living on the outskirts of contemporary theater. Our passion is exploring everything strange and sublime about the human experience through original immersive productions. For over a decade The Reformers have invited audiences to inhabit the offbeat worlds they create, giving rise to a loyal cult following. (They're definitely not a cult, though. Don't know where you heard that.) Their Halloween productions fuse traditional theater with a classic haunted house experience and are a must-see for any horror enthusiasts!