The Portland Mid-Autumn Moon Festival 2023 @ Shun Fat Supermarket | AAPI Night Market, 60 Vendors, Street Performance
From our sponsors: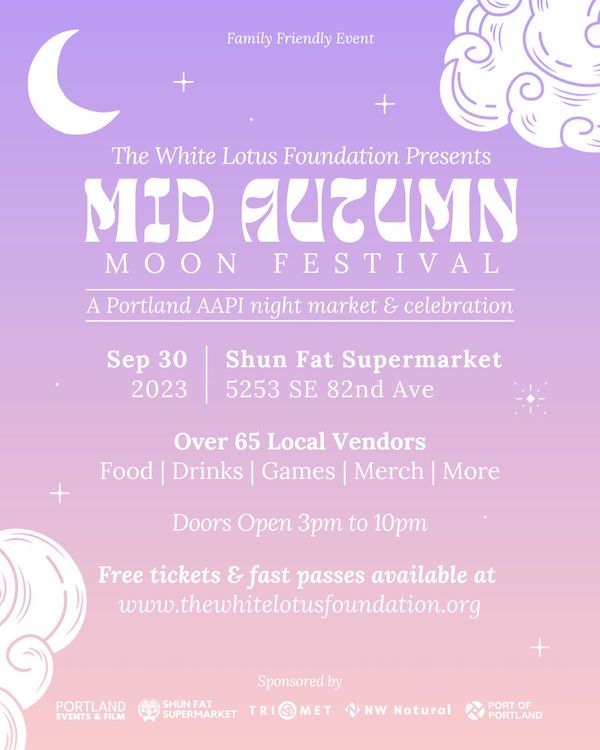 Mid-Autumn Moon Festival
September 30, 2023
3-10PM | Free | All Ages
More info: thewhitelotusfoundation.org
Shun Fat Supermarket
5253 SE 82nd Ave, Portland
Join us for the second annual Mid-Autumn Moon Festival! A Portland AAPI night market and cultural celebration. Mark your calendars for a night filled with festivities, delicious food, and captivating performances. Immerse yourself in the vibrant traditions of this cherished festival as we gather to honor the beauty of the full moon.
What is the Mid-Autumn Moon Festival?
The Mid-Autumn Moon Festival is a significant cultural event celebrated by many Asian communities around the world. It falls on the 15th day of the eighth lunar month when the moon is believed to be the fullest and brightest.
During this festival, families and friends come together to appreciate the moon's beauty, enjoy mooncakes (a traditional delicacy), and engage in various activities. Lantern processions, moon gazing, storytelling, and performances showcasing traditional music and dance are just some of the highlights of this joyous celebration