The Penguin Park Makers Market @ Grovemade in North Portland | Local Goods & Holiday Gifts, Spotlight on Emerging Artists and Makers
From our sponsors: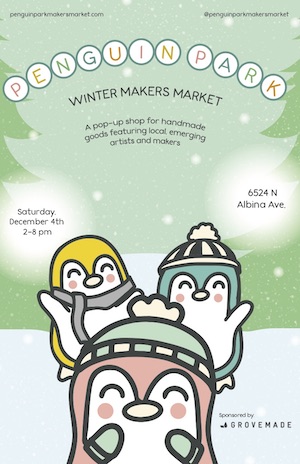 The Penguin Park Makers Market
December 4, 2021
2-8PM
More info: penguinparkmakersmarket.com
Grovemade Headquarters
6524 N Albina Ave, Portland, OR 97217
The Penguin Park Makers Market is a pop-up shop for local goods, with a focus on emerging artists and makers. Located at the Grovemade headquarters near Peninsula Park, this market provides free vending opportunities for more than 50 makers, and is a great holiday shopping destination!
Our mission is to provide a platform for micro-businesses, artists, and makers who are in the early stages of their careers, and to help break down economic barriers to successful vending experiences. The market is entirely volunteer organized and operated, and is supported by the generous donations from our official sponsor, Grovemade. Since 2009, Grovemade has been designing and manufacturing hand-crafted desk solutions out of their Portland workshop. This year's market will be held at their headquarters and also feature their donated factory seconds to help the makers.
We invite you to shop small, shop local, and make a difference this holiday season, and come see what this amazing creative community is all about.