The FARM Arts & Media Center Opens in SE Portland | Hybrid Art-Studio & Film-Production House Featuring Workshop & Paint Spaces, Green Room, Modeling & More!
From our sponsors: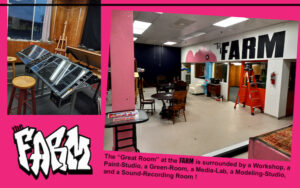 The FARM Arts & Media Center
More info: Facebook
The FARM Arts & Media Center
109 SE Alder St, Portland, OR 97214
503.841.6716
The FARM Arts & Media Center is open in Southeast Portland!
Grab a shovel and dig down into the soil of your soul and plant a seed.. covered in the darkness, you will struggle to reach the light, break into the sky, and produce delicious fruit.. The FARM is a new artist-creative taking up much of the lower level of an old historic storage-building.
Here members can paint on our communal-canvases (or their own canvases), sketch models, sculpt, perform and edit for film, or maybe record their podcast! We also have a stage and every Wednesday night from 6-9pm is OPEN MIC! We also have a Green-Room available for Members. We have a Modeling-Studio where photography-models can develop their style and even print photos! In the Great Room are tables to hold Meetups at ($28/3hrs, non-members) as well as 2 Art-Installation Spaces for members who have ideas for installation-art! Create one using fabric, cardboard, and other low-grade materials, leave it up for 3 weeks and receive $25 cash upon takedown! Hold workshops at the FARM to help pay for your membership!
Members enjoy a low monthly membership fee of $225/month. While Studio ABC charges $250-$300 per month and XYZ charges $200/hr (with a 3-hr minimum), we've kept it low while providing Free Events like Life-Drawing, Acting Classes and Workshops. We are a hybrid Art-Studio & Film-Production House. You would have to go to 3 or more different companies to do what we do at the FARM. Come and share your creative energy. Come hang out. Come see what you can grow at the FARM! Open Houses are coming up! The FARM is at 109 SE Alder St…Portland, OR 97214.. call or text 503.841.6716 and introduce yourself! Check it on Facebook