Stoolhumpin' Comedy Show @ Beulahland Coffee and Ale House | Free, Hosted by Portland's Funniest Winner Adam Pasi
From our sponsors: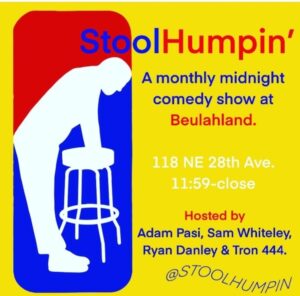 Stoolhumpin' Comedy show
September 18, 2021
11:59PM | Free
More info: Instagram

Beulahland Coffee and Ale House
118 NE 28th Ave, Portland, OR 97232
From Portland, OR's comedy stages comes Stoolhumpin'. A monthly midnight show held at the legendary Beulahland Coffee and Ale House. Stoolhumpin' will not be your ordinary run of the mill comedy show. Stoolhumpin' will be bringing the heaviest of heavy hitters to the stage. We'll be bringing out the Pacific Northwest's hottest comedy acts, and maybe possibly see a few national headliners drop by for a quick set.
Hosted by Portland's Funniest Person 2019 winner and town favorite Adam Pasi, World Series Of Comedy participant Sam Whitley and Hard Times writer and podcaster Ryan Danley. So prepare for your face to hurt. And we're not done, we got Portland legend Tron,The Old Grape God, bringing some hot musical accompaniment to the party. This whole package will be nestled comfortably in Portland's classic soccer bar, Beulahland. Enjoy a classic domestic lager or some of the area's best beers, and some delicious food while enjoying top shelf comedy.
Join us Saturday, September 18th for a killer line up of the NWs best comedians. We are bringing the heat!