ShanRock's Triviology Presents The Clash of the Covid Titans! | Prizes, Trophies
From our sponsors: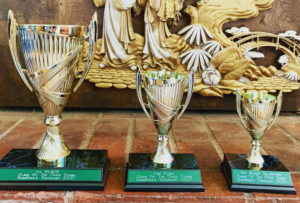 ShanRock's Triviology Presents…
The Clash of the Covid Titans!
Saturday, March 13th, 6pm
$30 per team; max team size five
Prizes and trophies for multiple teams!
The annual trivia tournament for ShanRock's Triviology must go on; your chance to win one (or more!) of these huge, beautiful trophies will not be crushed by Covid! Even if you have never played Triviology before, you are invited to join this online pub quiz, which will challenge your knowledge of pop culture, book learnin', and music.
Most teams, including newbies, will compete in the Olympian Open, which starts at 6pm. The winner of that trivia game will receive a trophy AND free admission into the second and final quiz of the day…the Titan Invitational, starting at 7:30, contested by teams with several wins over the previous season. Prizes and trophies shall be yours! Mark the end of winter by geeking out in front of a computer with fellow trivia mavens! Contact [email protected] if you'd like to save a spot, or if you have any questions.