Rue Cler Wine Offering Free Local Wine Delivery in Portland Metro Area | Locally Crafted Syrah, Pinot Noir, Rosé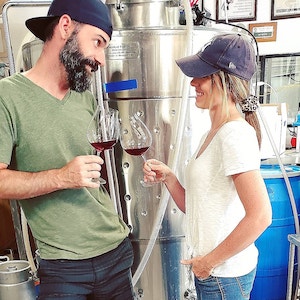 Rue Cler Wine Offering Free Local Wine Delivery in Portland
More info: rueclerwine.com/wines
Rue Cler Wine is a husband and wife team producing hand crafted, micro-boutque wines from around the Pacific Northwest. They just launched their Rue Cler wine label with their first Spring Collection!
Try their 2017 Columbia Valley GSM Red Blend, 2017 Walla Walla Valley Syrah, 2018 Willamette Valley Pinot Noir and 2019 Willamette Valley Rosé of Pinot Noir.
Their #crushclub is now open and we want you in it! You can finally join the club and start receiving all the Rue Cler wine. As a #crushclub member you will receive 2 shipments of 6 wines each year. One in Spring and one in Fall. Join the club in 2020 and earn 1st Crush Status! 1st Crush members receive 30% off of all bottle and case purchases for the life of the membership. Our way of saying, "Hey thanks for crushing on us from the very beginning!"
Before Covid you could find them at pop-up wine pourings around the Portland Metro area. Until they're are able to pour safely and freely again, they are offering complementary local wine delivery to anyone in the Portland Metro Area.
#BLACKLIVESMATTER
For the month of June 2020, 50% of all wine sales and #CRUSHCLUB memberships will be donated to the Equal Justice Initiative. An organization that works to end mass incarceration, excessive punishment and racial inequality. Rue Cler stands with the Black community. We see you, we hear you and value your lives. To sip + support please see https://rueclerwine.com/wines. Or donate directly to the Equal Justice Initiative at https://eji.org/
---
PDX Pipeline Free Community Promotions
This is a FREE local listing provided by PDX Pipeline. Do you have a local business and want a free promotion? Fill out our form here: pdxpipeline.com/local