Rose City Rollers Presents Cinema Under The Stars with RCR: Moulin Rouge @ Oaks Park | Oscar Winning Musical, Portland 2020 Labor Day Weekend
From our sponsors: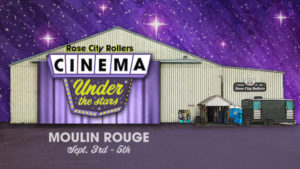 Cinema Under The Stars with RCR: Moulin Rouge
September 3-5, 2020
Choose Your Price – Suggested Donation $45 per car
More info: rosecityrollers.com
Rose City Rollers Hangar at Oaks Amusement Park
7805 SE Oaks Park Wy., Portland, OR 97202
Join the Rose City Rollers for an evening of movie magic under the stars! September 3rd – 5th we'll be screening Moulin Rouge!  a 2001 musical film directed, co-produced, and co-written by Baz Luhrmann. The film tells the story of a young English poet/writer, Christian (Ewan McGregor), who falls in love with the star of the Moulin Rouge, cabaret actress and courtesan Satine (Nicole Kidman). It uses the musical setting of the Montmartre Quarter of Paris, France.
At the 74th Academy Awards, the film was nominated for eight Oscars, including Best Picture and Best Actress for Nicole Kidman, winning two: for Best Art Direction and Best Costume Design. It was the first musical nominated for Best Picture in 10 years, following Disney's Beauty and the Beast (1991). In BBC's 2016 poll of the greatest films since 2000, Moulin Rouge! ranked 53rd.
Arrival from 8:30pm to 9:15pm, Movie starts at 9:30pm.
***Note: Tickets MUST be purchased in advance in order to attend. Please be sure to check out the FAQ section on our ticketing pages for info on what to expect, along with our social distancing and safety protocol.***