Rose City Rollers Present Roller Disco on the Rooftop @ Lloyd Center | Featuring DJ Gregarious Cline
From our sponsors: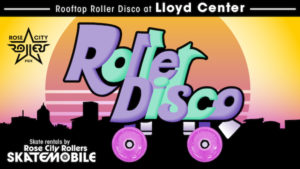 Rose City Rollers Present Roller Disco on the Rooftop
May 22, 2021
5-8:30PM | $10-$25 | All Ages
More info: merctickets.com
Lloyd Center
2201 Lloyd Center
9th Ave. Entrance Between Halsey and Multnomah, Portland, OR 97323
Join the Rose City Rollers for outdoor, socially distanced, open air skating on the Rooftop at Lloyd Center's West End Parking Structure!
Saturday May 22nd we are thrilled to BRING BACK our popular outdoor Roller Disco! Our DJ will be spinning tunes 5 to 8:30PM, and rental skates are available from Skatemobile
This event sold out last time, grab your tickets ASAP!
Concessions by Tamale Boy and the Rose City Rollers Plowstop Bar
Thanks to our sponsor, Wyld CBD!
We are limited to 150 people per current county guidelines.
RCR's Skatemobile is packed with rental skates, helmets and pads or you can bring your own skates and gear.
A Portland DJ since 2000, DJ Gregarious started in bars and clubs, quickly making a name for himself as the 1st DJ in Lola's Room with the extremely popular Shut Up & Dance, which ran for a successful 13 years.3 time winner and 6 time nominee of Willamette Week's "Best DJ", he performs at over 150 events a year.
Because it's COVID – read ALL the details…
What to expect:
You'll be asked for skate + gear sizes via your purchase confirmation email
$25 tickets include skates, helmet, and pads. Protective gear not required but encouraged. Feel free to bring your own helmet and gear if you are renting skates or bringing your own.
You can skate the huge rooftop space!
Pricing:
$25 for event entry, skates, helmet and pads
$15 for event entry for those with their own gear or non skaters
Buy 4 or more and get 25% off, use code 25%OFF4orMore!
Use code happyspring for half off as your situation dictates.
Parking is free, on levels 1 through 3
Safety:
Kids under 14 and under MUST be accompanied by a skating or non-skating adult
Kids 15 – 18 years old can be dropped off
Masks and social distancing are required
Bathrooms are located in the mall.
Legal items:
Driver's license will be held at check-in and returned at check-out
This is a skate at your own risk event for both Rose City Rollers Membership and the General Public.
Rose City Rollers Member WFTDA and JRDA Insurances do not apply to outdoor skating
Weather:
If we need to MOVE due to weather or wet conditions (which are terrible for roller skates!), all ticketholders will receive an email with instructions on accessing the 3rd floor of the structure, under cover. Thank you in advance for your patience and understanding!