Rose City Rollers @ Oaks Park | Wreckers Doubleheader & Juniors Season Opener
From our sponsors: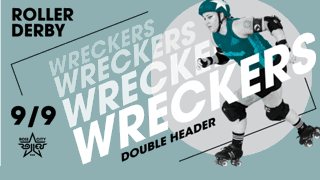 Rose City Rollers
September 9-10, 2023
More info: rosecityrollers.com
Rose City Rollers Hangar at Oaks Amusement Park
SE Oaks Park Way, Portland, OR 97202
September 9: Wreckers- The Great Potato Mash Up Doubleheader
Doors open at 4:30 PM | Game 1 starts at 5:30 PM, Game 2 at 8 PM
$15 | All Ages
Tickets: rosecityrollers.com
The Wreckers are kicking off our fall season on Saturday, September 9th with a doubleheader that you don't want to miss- it's The Great Potato Mash Up! Witness jaw-dropping action on the track and enjoy tasty food from our awesome vendors and beverages from the Plow Stop bar! Celebrate the start of our fall season with us, and prepare to be on the edge of your seat, it'll be an unforgettable night!
September 10: Rose City Juniors Doubleheader Season Opener
Doors at 11:30am | Game 1 at 12pm | Game 2 at 2pm | All Ages
$10 each, or $15 for 2-game pass
Tickets: rosecityrollers.com
We're thrilled to announce the long-awaited return of the Petals Killer Bees! Whether you're a die-hard derby fan or just curious to witness the up-and-coming talent of our amazing juniors, this doubleheader is sure to be one for the books and fun for the whole family.