Win Tickets ($40+): Rose City Rollers Present 2020 Portland Halloween Skate Pop-up @ Lloyd Center | Costume Contest, Featuring DJ Agent Meow, Skatemobile
We are giving away a pair of tickets to each Halloween Skate Pop-up skating session. To win, comment on this post why you'd like to attend. Winner will be drawn and emailed October 30.
———————————————
From our sponsors: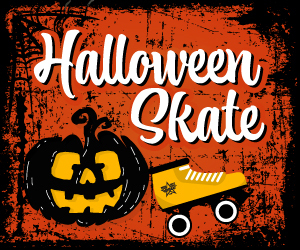 Halloween Skate Pop-Up
October 30-31, 2020
Friday: 6-9PM
Saturday: 10AM-1PM, 2-5PM, 6-9PM
More info: merctickets.com
Lloyd Center West End Parking Structure
9th Ave. Entrance Between Halsey and Multnomah
Portland, OR 97323
Looking for some spooky, seasonal fun? Join the Rose City Rollers for a special Halloween weekend pop-up at the Lloyd Center Parking Structure! A perfect way to celebrate the holiday in a unique, socially distanced way.
SKATEMOBILE will be on site packed with skates and gear for your rental needs (make sure to fill out the sizing survey when you purchase your ticket!). We have a huge, skatable area reserved – and options for covered or top-level of the garage*, depending on weather. DJ Secret Agent Meow will be there spinning tunes for you to groove to, and we'll have a costume contest with prizes! This event is all ages.
*NOTE about the skatable area: we will either be on the top level (next to the old Nordstroms space) if weather permits, OR on the next level down in case of rain. The lower level is open on 3 sides, but provides plenty of cover and space to skate, even in poor weather.
DIRECTIONS: Enter through the 9th Ave. entrance (see map below) and follow the purple chalk lines to meet us at the level where you'll be skating. Our staff will be there to check you in and get you set up with all the gear you need to have a rolling good time!
—————
RCR's Skatemobile is packed with rental skates, helmets and pads or you can bring your own skates and gear. Get ready for a great time; and please buy your tickets in advance if at all possible, these events often sell out!
Because it's COVID – read ALL the details…
What to expect:
You'll be asked for skate + gear sizes via your purchase confirmation email
$20 tickets include skates, helmet, and pads. Protective gear not required but encouraged. Feel free to bring your own helmet and gear if you are renting skates or bringing your own.
You can skate within the boundaries of the "rink" – Please remove your skates to enter the mall.
We will announce when there is 15 minutes left of the skate session.
Pricing:
$20 for event entry, skates, helmet and pads
$10 for event entry for those with their own gear or non skaters to accompany skaters within the area.
Parking is free
Safety:
Kids under 14 and under MUST be accompanied by a skating or non-skating adult (if the adult wants to stay outside of the skating boundary, they may remain in the area without paying to moniter their kids.

This is up to your skater's ability level to skate unassisted within the "rink".

Kids 15 – 18 years old can be dropped off
Masks and social distancing are required 
You can bring water and snacks, but no smoking or consumption of alcohol is permitted
Legal items:
Driver's license or car keys / a credit card will be held at check-in and returned at check-out
This is a skate at your own risk event for both Rose City Rollers Membership and the General Public.
Rose City Rollers Member WFTDA and JRDA Insurances do not apply to outdoor skating