River View Cemetery & River View Funeral Home Feature Caring Options to Honor Loved Ones | Beautiful Open Spaces, Paper Crane Memorial Service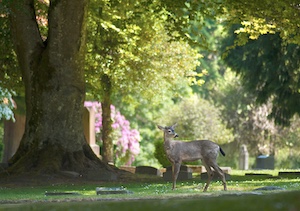 River View Cemetery & River View  Funeral Home
More info: riverviewcemetery.org
Location: 8421 S Macadam Ave, Portland, OR 97219
The professional and caring staffs at River View Cemetery & River View  Funeral Home take pride in providing high-quality, affordable funeral services that meet the special needs of your family. They offer natural burial, aqua cremation, and many memorialization options.
Established in 1882, River View Cemetery is the oldest endowment care non-profit cemetery in Portland. We invite recreational enthusiasts to enjoy our 165 acres of natural splendor. Gentle reminder: no pets on cemetery grounds, please.
They offer to display paper cranes upon request through our free service, "Condolence and Remembrance." Those not attending a funeral or graveside service have the chance to share a token of love and support by completing the form on our website. Enter the name of the person you'd like to remember and a message. We will write their name on an origami crane that will be displayed in our chapel area. We will print the messages and place them in a basket in our chapel.
---
PDX Pipeline Free Community Promotions
This is a FREE local listing provided by PDX Pipeline. Do you have a local business and want a free promotion? Fill out our form here: pdxpipeline.com/local