PsyCon Psychedelic Convention @ Oregon Convention Center | Featuring Lamar Odom, Experts, Exhibits + Promo Code
From our sponsors: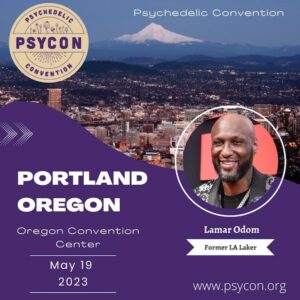 PsyCon
May 19-20, 2023
Starts at $199
30% off w/ code PDXP30 at psycon.org
Oregon Convention Center
777 NE Martin Luther King Jr Blvd, Portland, OR 97232
PsyCon, a cutting-edge psychedelic business conference, is pleased to announce the addition of NBA champion Lamar Odom to the speaker lineup for their upcoming event. PsyCon Portland will be the first business-to-business trade show in the state as the newly formed psilocybin market takes hold, offering two days of high-value education and networking opportunities.
An outspoken advocate for psychedelic medicine, Odom will share his experience in beating addiction with ibogaine and ketamine. His story was recently highlighted in the film Lamar Odom Reborn, directed by famed psychedelic concierge Zappy Zapolin.
"We are thrilled to have Lamar joining us in Portland," said PsyCon co-founder Chad Sloan. "We aim to bring the best and brightest to our events and adding Lamar is sure to be a highlight of the show."
The list of speakers for PsyCon also includes many other top names in psychedelics, including Benjamin Lightburn, CEO and co-founder of Filament Health, Dr. Elizabeth Nielson, co-founder of Fluence, and Kaia Roman, co-founder of KetaMD and a renowned author who was recently honored as Psychedelic CEO of the Year at the 2023 Entheo Awards.
PsyCon organizers have seen an impressive response to their call for presenters and panelists. More high-level guests from across the emerging psychedelic landscape are expected to be announced soon.
The two-day PsyCon event promises a robust agenda. In addition to the wide range of speakers, the conference will also feature a dynamic expo floor and plenty of opportunities for fun after-hours.