Protectly's Mask Recommendations | What is the Best KN95 or N95 Mask for Covid-19?
From our sponsors: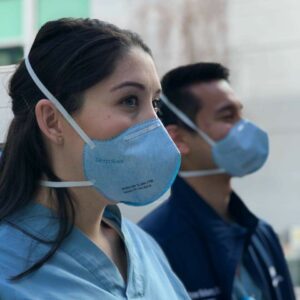 Protectly: KN95 vs N95
More info: protectly.co

The Centers for Disease Control and Prevention (CDC) has recently re-instated its mask guidance this week — requesting the public to go back to wearing face masks in indoor settings and crowded areas, regardless of vaccination status.
What is the best KN95 or N95 mask for Covid-19?
KN95 and N95 masks (also known as respirators) are more protective than surgical masks and cloth masks. You might be wondering why? Because they are engineered to stop small and large airborne particles penetrating the masks' front as well as provide fluid/droplet resistance. While surgical masks are capable of providing filtration comparable to or better than cloth masks they are designed to keep fluids from landing on the wearer in a clinical setting.
KN95 vs. M95 Masks: What's the Difference?
It can be difficult to spot the differences between the N95 and KN95 N95 masks. There are minor differences. Both masks can filter harmful particles of air at greater than 95% efficiency. The KN95 mask has earloops, whereas the N95 mask has two headbands. The KN95 is generally more comfortable to wear, while N95 has a slightly better seal around the face. Both masks provide protection indoors and outdoors.
Top 3 Mask Recommendations
1. RespoKare N95 Mask
FDA-Cleared Antiviral N95 Mask. The RespoKare(r), N95 Respirator Mask has been proven to be highly effective against the 18 most common pandemic and seasonal influenza viruses through years of research and rigorous testing, including Coronavirus.
Buy Respokare N95 Mask
2. 3PE N95 Mask
The necessity to produce high-quality N95 respirators that are reliable and safe for public health was the inspiration behind the 3PE N95 mask. Made in California, USA. 3PE N95 mask is one of the most comfortable N95 masks on the market due to adjustability of the straps.
Buy N95 Mask, 3PE
3. KN95 Mask USA-Made
American-made KN95 Respirator Mask, made in California. 5-Layer protection. The highest quality 100% USA Materials are used to make our KN95 Mask.
Buy KN95 Mask, USA-Made