Portland's NAACP & Urban League Hosts Investing in Black Lives: A Path Toward Healing – Live Broadcast | Featuring Discussion w/ Oregon & Portland Leaders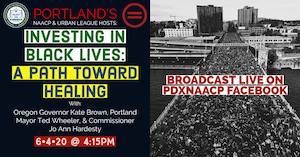 Investing in Black Lives: A Path Toward Healing – Live Broadcast
June 4, 2020
4:15-5:30PM | Free
More info: Facebook
The last week has been tragically historic. The video of George Floyd's death at the hands of police has provoked a national conversation unlike those generated by previous police killings. America is at a turning point; a moment of reckoning.
The opportunity presented by the tragedy of Floyd's death must be taken advantage of. To not do so would be an insult to his memory and must be viewed as a sacrifice. This time must be different. This time must be the last time.
We know real change is possible—we refuse to believe otherwise. But as tens of thousands protest across the country, the path forward remains murky. To navigate this space, we will need the voice of Black leaders, the ears of our allies, and the feedback of our community.
To that end, the Portland NAACP and the Urban League of Portland will be seizing this crucial moment through a virtual panel discussion and listening session hosted by Black community leaders and top elected officials. Rev. E.D. Mondainé, NAACP president; Nkenge Harmon Johnson, Urban League CEO; Portland Commissioner Jo Ann Hardesty; Portland Mayor Ted Wheeler; and Oregon Governor Kate Brown will act as panelists, facilitating a dialogue that generates real answers for real progress. The event will be streamed live on the Portland NAACP Facebook page on June 4, from 4:15-5:30 pm.
While the nation grapples with our arrival at this juncture, we must do what we can here in Oregon and in Portland, our largest urban center. Here, our state was founded on racist ideology, a legacy that lives on to this day. Oregon's state constitution, alone among states to join the Union, included a clause expressly forbidding Black residents.
One of the realities of Oregon's racist history is a well-earned distrust in the Black community of dominant-culture institutions that have failed, betrayed, and targeted them since their inception. It is time for our elected leaders and the broader community to earn that missing trust.
This moment presents an opening in our society's collective consciousness for truly transformative progress, if only we demand it. The level of collaboration needed to capitalize on this opportunity will itself be historic. In recognition of these facts, this event will act primarily to elicit input and suggestions from viewers and participants for concrete steps to move toward our shared goal of true equity and solidarity across race. Public participation will take place through comments and questions on the Facebook Live stream.
We will move forward together. The only alternative is unacceptable: "To not move forward at all."