Portland To-Go Menu @ Culture Mediterranean Restaurant | Delivery & Pickup! Chicken Shwarma, Lamb/Beer Kafta, Baklava & More!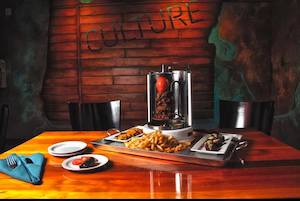 Culture To Go Menu
See Menu at culturepdx.com
Order at: https://culturepdx.com
Culture Mediterranean Restaurant
2422 SE Hawthorne Blvd., Portland, Oregon 97214
To Our Friends & Family To our Culture family, we're temporarily closing our dining room for the foreseeable future. This has been a difficult decision but is something necessary to slow the spread of (COVID-19). As much as it brings us joy to provide you food at our tables, we will now be offering to- go, delivery and pick-up services.
Until further notice, we will continue to offer a limited to go menu of our most popular items. You can access this menu via our website. We will soon be using popular online to go services. Portland, we will miss you but we will be back and stronger than ever!
We understand the growing concern surrounding coronavirus (COVID-19) across our communities and our hearts go out to all those who have been impacted.
If a family in need is not able to pay the full price for a meal. We will accept whatever payment is possible for the them.
---
PDX Pipeline Free Community Promotions
This is a FREE local listing provided by PDX Pipeline. Do you have a local business and want a free promotion? Fill out our form here: pdxpipeline.com/local