Portland Last Thursday Art Walk on Alberta Street | Vending, Performances, Workshops
Last Thursday is a monthly set of divergent happenings on NE Alberta Street in Portland, Oregon every Last Thursday of the month (generally 4-9 pm). Last Thursday runs 12 months a year, but outdoor arts, performances, vending really gets rolling each June-August.
————–
Related Portland Events & Info
————–
From website: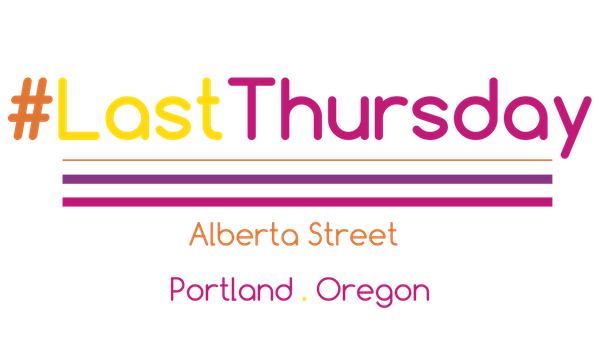 Last Thursday Art Celebration
Last Thursdays in 2023
Street Closed June, July & August
4-9PM | Free
More info: lastthursdayportland.org
For 25+ years, Last Thursday on Alberta Street in Portland, Oregon has been a community driven monthly arts & culture gathering every last Thursday with street closures June, July and August. Always free and all ages, Alberta Street comes alive with artists, musicians, and performers. Art galleries have opening parties and receptions. Local arts & crafts vendors sell their handmade wares.
No one entity "owns", "controls" or "produces" Last Thursdays. It is a divergent grass roots event where all are welcome to participate and promote. Art Galleries & small businesses, including music venues, restaurants & bars often host live music indoors and outside – 12 months a year.  See more info on vending.
In late Spring through September, Alberta Street Last Thursday comes alive OUTDOORS with local arts & crafts vendors, performers, music, events & other happenings. Always all ages, and always free! We don't always know what's planned or who will show up. The best way to experience Last Thursday is to visit the street yourself. 4 pm is generally when things get started and have a hard stop at 9 pm.