Portland Fruit Tree Project Presents Sunset Concert and Cider Tasting Party on Sauvie Island | Games, Music w/ Seffarine, Food Truck
From our sponsors: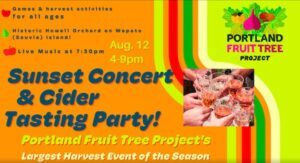 Sunset Concert and Cider Tasting
August 12, 2023
Harvest and Activities 4-9PM
Sunset Performance at 7:30PM
Suggested Entry $35 | All Ages
More info: merctickets.com
Howell Territorial Park
13901 NW Howell Park Rd., Portland, OR 97231
Join Portland Fruit Tree Project as we celebrate the harvest at Howell Territorial Orchard on Wapato (Sauvie) Island August 12th with a day of Cider and Mead Tasting, games and harvest activities for all ages, and a sunset concert featuring the award winning music of local legends Seffarine. (We can't promise a deer, but there was a deer last time! See Photos.)
Featuring the never to be missed menu from Spice of Africa, along with and the African Heritage Cooking Experts from Oregon State University hosting live cold fruit prep activities with harvested fruits!
Thank you to our sponsors: 2Towns Cider and Nectar Creek Meadery  and Oak Union Brewery – Guests will receive 4 oz tastings for free, and beverages will be sold with proceeds benefiting Portland Fruit Tree Project.
Harvest – Food and Fun 4 to 9pm.
Sunset Concert at 7:15pm
Children 12 and under are free with adult entry
This gorgeous property, owned by Metro, showcases the region's natural and cultural history in one serene setting. Bring a picnic blanket and chairs, and a pair of binoculars to watch for birds that flock to the park's wetlands. Learn about Sauvie Island and the families who shaped it, and relax in the shade of an authentically restored 1850s farmhouse, enjoying fruit from the onsite orchard. Please Note – No Pets are Allowed on the Property and BYO alcohol is prohibited.
Sliding scale tickets made available via a generous donation from Metro, and free ride passes have been donated by Trimet. If you receive SNAP benefits, please use code FruitForAll for free tickets, including a $25 meal voucher: SNAP tickets made possible by the Peace Fox and Ernie Fox fund.
To access this property via Trimet, get off at the Sauvie Island Stop on Line 16, a sign will be posted to text our volunteer shuttle service to pick you up and drive you to the property. Please email kathrynh@portlandfruit.org to be sent free Trimet Passes by mail, and include your full mailing address.
About Portland Fruit Tree Project:
We joyfully care for and harvest fruit trees that feed and shade our neighborhoods. Join us!
To volunteer for this event, click HERE! Free food and cider for volunteers.
About Seffarine:
Born in the ancient city of Fes, Morocco, internationally acclaimed singer Lamiae Naki and her ensemble Seffarine channel their deep knowledge of the music of both sides of the Straits of Gibraltar, the crossroad where African, Middle Eastern and European cultures meet. From the 9th to 15th centuries these cultures coexisted peacefully, producing a seminal musical alchemy that influenced the foundations of both classical Arabic and European Renaissance music.
"an ear-caressing blend of sounds from Spain and north Africa, spiced with a bit of fiery instrumentation and percussion."-Scott Stevens, SoundRoots
"a skilled blending of musical alloys" -Willamette Week
About the OSU Extension African Heritage Cooking Program:
Oregon State University Extension's African Heritage program and workgroup promotes an Afrocentric, plant-based diet using healthy recipes from the four regions of the diaspora (Africa, The Caribbean, South America, and the American South) through nutrition education, cooking demonstrations, cultural events, and food tastings in communal settings.