Portland Cider Company Open for Sit-down Service and Cider To-Go @ Clackamas Pub | Happy Hour, Flights, 18 Taps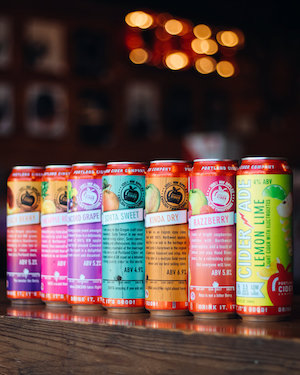 Portland Cider Company Open For Sit-Down or Takeout
More info: portlandcider.com/pub
Portland Cider Company
8925 SE Jannsen Rd, Bldg. F, Clackamas, OR 97015
Portland Cider Company is offering sit-down service and Cider To-Go at their Clackamas Pub, a full restaurant and pub featuring 18 taps of Portland Cider specialties and northwest craft beer or wine. Offering a full English pub menu, serving lunch, dinner and snack options, with Happy Hour every day from 3-6pm.
Let our Cider-Tenders pour you a sample cider flight, pint and growlers fills of anything on tap. This taproom regularly features unreleased and limited availability ciders from our cider makers.
For to-go needs, Portland Cider has a variety of packaged cider options in addition to growlers for home.
Hop' Rageous 6-packs are $8 each or $30 for four.
Hop' Rageous 19.2oz cans are sold by the case of 12 for only $25.
Kinda Dry 22oz bottles for $30 a case of 12.
They are now offering crowlers of everything on-tap
---
PDX Pipeline Free Community Promotions
This is a FREE local listing provided by PDX Pipeline. Do you have a local business and want a free promotion? Fill out our form here: pdxpipeline.com/local