Pok Pok Meal Kits Are Now Available! | Order Online, Pickup At Commissary Kitchen, Fish sauce Wings, Spicy Chicken Sandwich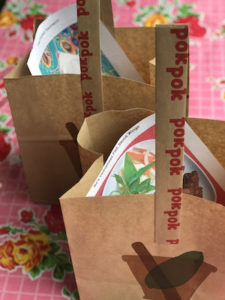 Pok Pok Meal Kits Now Available
Order online: pokpokrestaurants.com
Pickup at Commissary Kitchen
3634 SE 20th Ave. Portland, OR
We're excited to offer you our NEWLY launched make-at-home Meal Kits! Kit includes the recipe and all ingredients needed to prepare a Pok Pok meal at home!
These meal kits are available to order online only and pick-up is at our Commissary Kitchen
3634 SE 20th Ave. Portland, OR
Pick-up Hours Wed-Sun / 2-6pm
This is our ONLY pick-up location.
***Please DO NOT go to any of our restaurant locations.
We are currently offering the items below PLUS other Pok Pok goodies.
Make at Home Ike's Vietnamese Fish Sauce Wings
Meal Kit includes 6 frozen Ike's Wings with the recipe and all ingredients needed to prepare at home! Half dozen fresh whole natural chicken wings marinated in fish sauce and sugar, deep-fried, tossed in caramelized Vietnamese fish sauce and garlic, and served with Do Chua (pickled vegetables.)
Make at Home Spicy Chicken Sandwich
Meal Kit includes 4 frozen, Thai-style fried chicken breasts with a recipe and all ingredients to prepare at home! (makes 4 sandwiches) Pok Pok Midnight fried chicken breast on a toasted bun with pickled vegetable slaw, pickled serrano chiles and SriRancha sauce.
Please carefully read our pick-up instructions and click on the red "Order Pick-Up" button to view our full list of offerings and place your order.  ONLINE ORDERS ONLY!