Pix Pâtisserie Presents Pix-O-Matic Vending 24 Hours a Day | Last-minute Birthday Treats, Photo Booth
From our sponsors: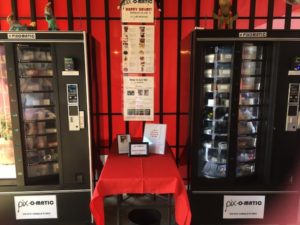 Pix-O-Matic
Available 24-hours
More info: pixpatisserie.com
Pix Pâtisserie
2225 E Burnside St Portland, Oregon 97214
Pix Pâtisserie's Pix-O-Matic is open 24 hours a day, 7 days a week for Pix fixes, last minute birthday treats and stuff to make you smile when you need a smile!
While you are there, take home a souvenir. Our photo booth lets you snap a picture or make a GIF of you and your masked friends, your tasty purchases, flossing with the family…whatever (just keep it clean). Tag @pixpatisserie on Facebook, Instagram or Twitter for your chance to win a free dessert. We'll choose our favorites each month.
About the Pix-O-Matic
Pix-O-Matic, the 24 hour contactless vending machines of Pix desserts, macarons, conservas from Bar Vivant and other random stuff to make you smile (because who couldn't use a smile these days?)
Now, you can get your Pix fix anytime craving strikes. Just visit the refrigerated vending machines outside the Pix front door. The Pix-O-Matics will be thoroughly cleaned and restocked each day at 10AM with your favorite tasty treats. Make your selection and pay with the contactless credit card reader. Enjoy our danceable playlist and party lights while you shop. Need a last minute birthday treat? The Pix-O-Matic has got your back. There's even sparklers in the rotating selection.
The Pix-O-Matic is located at 2225 East Burnside Street in Portland Oregon. Please respect social distancing and wear a mask while using.
A sampling of what the daily Pix-O-Matic may contain:
French macarons
Individual Pix desserts such as the Amelie, Concord, Une Fantôme, Incognito and Pixie bar
Gift boxes of chocolate
Sparklers
Conservas (top quality tinned seafood from Spain and Portugal)
Hand sanitizer
Toilet paper
Sourdough starter
Cocktail mixers (tonic water, club soda, fresh citrus fruit)
Fresh eggs
Ruth Bader Ginsburg and Moscow Mitch face masks
Rick Astley for President buttons
Arts & crafts by Pix employees