Pix Pâtisserie Presents La Fête du Macaron Pix-O-Matic Popup | Portland 2021 Thanksgiving Weekend, 24 Colorful Flavors, Macaron Coloring Contest
From our sponsors: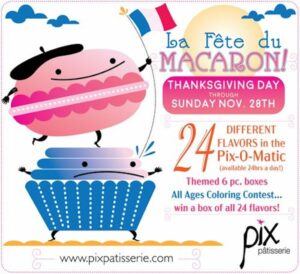 La Fête duMacaron Pix-O-Matic Popup
November 25-28, 2021
24 hours a day starting at 10AM on Thanksgiving
More info: pixpatisserie.com
Pix Pâtisserie
2225 E Burnside St Portland, Oregon 97214
Pix Pâtisserie celebrates the French macaron once again at its annual La Fête du Macaron. 24 colorful flavors will fill the Pix-O-Matic vending machine alongside fun macaron themed paraphernalia (pet toys, kitchen and bath accessories, jewelry and more!) From classics like pistachio, raspberry and salted caramel, to the fun flavors of birthday cake and s'mores, and something for the adults…bourbon, pina colada and The Dude (yes, it's a White Russian macaron in bowling ball formation), we will have them all.
Enter the macaron Coloring Contest for a chance to win a tasting box of all 30 macaron flavors. Just download the template from our website or pick one up next to the Pix-O-Matic. Work your creative magic, then submit it in the drop box at the restaurant, where it will be on display for the weekend. Pix-O-Matic visitors will be the judges. The work of art that gets the most smiles wins! Submit your entry by November 24th. All ages.
Want more? Get the recipe for our macarons in Pix owner Cheryl Wakerhauser's book, Modern French Pastry, and the recipe for Mini Macs (so small you might mistake them as M&M's) in her new book, Petite Pâtisserie. Both are available from our website to be shipped or by special order to pick up at the restaurant. Macaron template nonstick baking mats are also available for $20 in the Pix-O-Matic or by special order.
Themed mixed 6-packs for $18
THE CLASSICS
Pistachio
Rose
Espresso
Raspberry
Salted Caramel
Chocolate
BE A KID AGAIN
Birthday Cake (contains gluten)
S'Mores
Candy Cane
Apple Pie
Chocolate Cinnamon
Lemon Poppy Seed
HAPPY HOUR
Bourbon
Pina Colada
The Dude
Margarita
Sherry Almond
Tawny Port
WHO CAN TAKE A RAINBOW
Strawberry Balsamic
Passion Fruit
Coconut Curry
Kalamansi Lime
Blueberry
Cassis Violet