Pix-O-Matic Pop-Up Presents Orange Cap Ginger Beer | Cocktail Tasting, Portland July 4th Weekend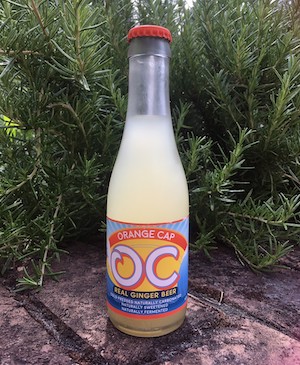 PIX-O-MATIC POP-UPS!
Orange Cap Ginger Beer
July 1-6, 2020
More info: pixpatisserie.com
Pix Patisserie
2225 E Burnside St, Portland, OR 97214
Pix-O-Matic is the 24 hour contactless vending machine of Pix desserts, macarons, conservas from Bar Vivant and other random stuff to make you smile (because who couldn't use a smile these days?) From time to time we feature a pop-up in the Pix-O-Matic. Restaurants or producers of local craft products will take over sections of the Pix-O-Matic to sell their goods for a period of 3 to 7 days. Here's what's coming up…
July 1 – 6
Orange Cap Ginger Beer  (July 3 Pop-up Cocktail Tasting)
Orange Cap is a new refreshing non-alcoholic* sparkling beverage full of BIG GINGER and citrus flavor with just enough sweetness to balance the acidity and is produced right here in Portland, Oregon. Orange Cap has four ingredients – cold pressed ginger root, citrus juice, cane sugar and Bull Run water.
Enjoy Orange Cap as a thirst quenching beverage alone or add an additional wow factor to your favorite cocktails like the Moscow Mule, Whiskey Ginger Bucks, Dark 'n Stormy or in our Rose City Ginger Fizz. A recipe for the Rose City Ginger Fizz will be in the Pix-O-Matic featuring OC Ginger Beer with cocktail ingredients for two Rose City Gin Fizzes except the booze (you gotta get that yourself but we like Aria Gin, Bull Run Whiskey and Medoyeff Vodka!)
PLUS, Friday July 3rd from 6 – 8pm Orange Cap owner Tobias Hogan will be at the Pix-O-Matic with a pop-up cocktail tasting. Have a little nip while you're out picking up supplies for your backyard July 4th party! It won't be the same grill out without a tasty cocktail, so why not "cap" it off with some Orange Cap Real Ginger Beer?
Orange Cap Ginger Beer $3
Rose City Ginger Fizz Cocktail Kit $4
* May contain less than 1% ABV