Oregon Juneteenth 50th Year Anniversary Celebration in North Portland | Live Music, Festival, Parade, Vendors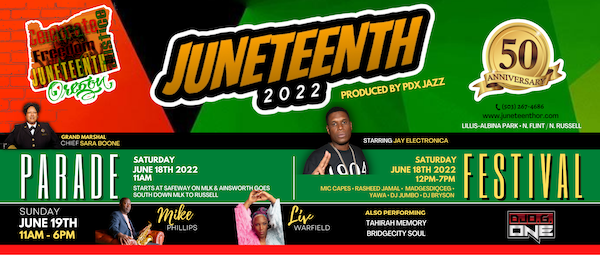 In 2022, Oregon's Juneteenth celebration turns 50 years old. Join the festivities June 18-19 in North Portland w/ live music, DJs, vendors, food and kid's area & More!
—————–
Related Portland Events & Giveaways
—————–
From website:

50th Annual Juneteenth Oregon Celebration
June 18-19, 2022
Parade: June 18 @ 11AM
Festival: Saturday June 18th 12pm-7pm
Festival: Sunday June 19th 11am-6pm
More info: juneteenthor.com
Lillis Albina City Park
N Flint Avenue and Russell Street, Portland
Join us for our 2022 Juneteenth Oregon 50th Annual Celebration!
Live Entertainment – Vendors – Food – Kid's Area
The festivities kick-off at 11am with the annual Parade on Saturday feat. Fire Chief Sara Boone as the Grand Marshall and Nikki Brown Clown, which commences at Safeway 5920 NE Martin Luther King Blvd (MLK) heading south down MLK them west on NE Russell St, ending at Lillis-Albina Park.
This free 2 day community event, features musical performances by:
SATURDAY features:
Jay Electronica
Mic Capes | Rasheed Jamal | MadgesdiqCEG | Yawa
Exclusive DJ Set by Jumbo Is Dr.ama + DJ Bryson
SUNDAY features:
Mike Phillips | Liv Warfield
Tahirah Memory | DJ O.G. One | Bridgecity Soul
The two-day event will also feature guests from the Miss Juneteenth program. Miss Juneteenth Oregon provides education, tools, and resources to help youth build resilience, gain confidence and make positive life choices.
Juneteenth, also known as "Independence Day" or "Freedom Day", commemorates the June 19, 1865 announcement of the abolition of slavery and the emancipation of African American slaves.
On September 22, 1862, President Abraham Lincoln issued the Preliminary Emancipation Proclamation effectively ending slavery on January 1, 1863, however, the Proclamation had little effect in the State of Texas until two and half years later. It was on June 19, 1865, that Union General Gordon Granger read General Orders No. 3 to the people of Galveston, Texas:
"The people of Texas are informed that in accordance with a proclamation from the Executive of the United States, all slaved are free. This involves an absolute equality of personal rights and rights of property between former masters and slaves, and the connection heretofore existing between them becomes that between employer and hired labor."
In 2021, Juneteenth became a federal holiday.
Juneteenth in Oregon
The celebration of Juneteenth Oregon dates back to 1945 when the late and beloved community leader, Clara Peoples, introduced the tradition from Muskogee, Oklahoma, to her co-workers at the Kaiser Shipyards in Portland. Upon moving to Portland in 1945, Clara Peoples was surprised to learn that the Juneteenth holiday was unknown in this part of the country.
Now in its 50th year, Clara helped to initiate Portland's annual citywide Juneteenth celebration in 1972.