Oregon Humanities Presents Consider This with Author Omar El Akkad | Online Conversation w/ Author of American War and What Strange Paradise
From our sponsors: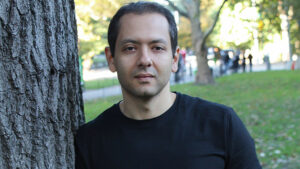 Consider This with Omar El Akkad
January 11, 2022
Show 7PM | GA $15, Conversation Starter $30
More info: event.etix.com
In January 2022, Oregon Humanities will host a live, onstage conversation on with novelist and journalist Omar El Akkad, author of American War and What Strange Paradise. This event is part of Oregon Humanities' 2021–22 Consider This series, American Dreams, American Myths, American Hopes.
This is an in-person event. Oregon Humanities and the Alberta Rose Theatre will follow all local, state, and federal safety guidelines for public gatherings. To enter the venue, the theatre requires proof of a full course of COVID vaccination for all attendees ages five and up.
On the day after the event—Wednesday, January 12—participants can join viewers across the state for an online follow-up discussion at noon Pacific. Participants can register for this free discussion at oregonhumanities.org.
Omar El Akkad is an author and journalist. He was born in Egypt, grew up in Qatar, moved to Canada as a teenager, and now lives in the United States. The start of his journalism career coincided with the start of the war on terror, and over the following decade, he reported from Afghanistan, Guantanamo Bay, and many other locations around the world. His work earned a National Newspaper Award for Investigative Journalism and the Goff Penny Award for young journalists.
His fiction and nonfiction writing has appeared in the New York Times, the Guardian, Le Monde, Guernica, GQ and many other publications.
His debut novel, American War, is an international bestseller and has been translated into thirteen languages. It won the Pacific Northwest Booksellers' Award, the Oregon Book Award for fiction, and the Kobo Emerging Writer Prize and has been nominated for more than ten other awards. It was listed as one of the best books of the year by the New York Times, Washington Post, GQ, NPR, and Esquire and was selected by the BBC as one of 100 novels that changed our world.
His short story "Government Slots" was selected for the Best Canadian Stories 2020 anthology. His new novel, What Strange Paradise, was published in July 2021. In November, it was honored with the 2021 Scotiabank Giller Prize.
This series is made possible thanks to the support of the National Endowment for the Humanities' More Perfect Union initiative, the Oregon Cultural Trust, The Standard, Stoel Rives LLP, the Kinsman Foundation, and the City of Portland's We Are Better Together program.
Oregon Humanities connects people and communities through conversation, storytelling, and participatory programs to inspire understanding and collaborative change. More information about our programs and publications—which include the Conversation Project, Consider This, Humanity in Perspective, Public Program Grants, and Oregon Humanities magazine—can be found at oregonhumanities.org. Oregon Humanities is an independent, nonprofit affiliate of the National Endowment for the Humanities and a partner of the Oregon Cultural Trust.