Nordic Northwest Presents 2022 Oregon Midsummer Festival @ Oaks Amusement Park | Maypole, Lawn Games, Nordic Summer Delicacies
From our sponsors: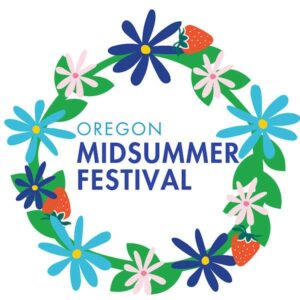 Oregon Midsummer Festival
June 11, 2022
11AM-6PM | All Ages
Kids up to 5, Free | Youth $8 | Adult $12
More info: eventbrite.com
Oaks Amusement Park
7805 Southeast Oaks Park Way, Picnic Area #9
Portland, OR 97202
In the Northern lands of the midnight sun it is traditional to warm up after a long cold winter by celebrating Midsummer with friends, food, and drinks.
Scandinavian roots are not required to celebrate Oregon's Scandinavian Midsummer Festival. It continues to be a fun, family friendly, and important day with centuries-old traditions and everyone is invited!
Entertainment: Sit back and enjoy a wide variety of Scandinavian entertainment, from traditional dancing to vibrant live music on two stages. These sounds and sights from across the Pacific Northwest provide the perfect backdrop for a lively midsummer celebration.
South Stage performers include Nye Algen "The New Moose", Soitterasia "Music Box", Martha & Maren, Dan Schlesinger, Granstrom & Rogers, Catarina New
North Stage performers include: Vasa Youth Group, Süssefüsse "Sweet Feet", Tulehoidjad "Torch Bearers, Allspel, Vanta Bara "Just Wait", Amy Hakanson
There will also be a Nordic folk dress showcase and an announcement of the Scandinavian of the Year.
Food & Drink: What goes better with a cold one from our beer & wine garden than Nordic cuisine? Taste the classic flavors of thin Swedish pancakes, sweet cardamom rolls, lingonberry tea and more! Come grab a bite from Carina's Bakery, Finlandia Foundation, Harmoni Lodge, or the League of Swedish Societies.
Vendors: Wander around the grounds and explore the booths with Nordic vendors from all over the Pacific Northwest! Shop everything from Nordic vintage finds to locally-made Artisan crafts and Nordic gear. Visit the non-profits that offer fun Nordic programming in the Pacific Northwest. 20 vendors will be at the festival with many different items and gifts!
Floral Wreath Making: The fresh summer greenery of nature is said to contain magic. The weaving of floral Midsummer wreaths has been a way to harness this magic and ensure good health throughout the year in traditional Midsummer celebrations in Scandinavia for centuries. Legend says that girls who pick seven flowers and put them under their pillow will dream of the person they will marry! Use bright flowers, green leaves, and delicate birch branches to weave a midsummer crown of your own!
Raising of the Maypole: When the sun is high in the sky, grab a dancing partner big or small and join us in a celebratory dance around the Midsummer Pole! The majstång is decorated from top to bottom in flowers and birch and, once standing, it signifies the beginning of the summer season. This parade and gathering is the highlight of the day – let summer commence!
Lawn Games and Crafts: Kids don't get to have all the fun! We have lawn games for everyone. Work on your strength with a group game of tug-of-war and win prizes. Play the traditional game of Kubb. Search for gnomes in our scavenger hunt, enjoy arts and crafts, and more!
Vikings: Experience combat and history come alive with the Timberhaven Vikings. There will be a Viking photo booth for attendees to take pictures and pose with helmets and shields. View our magnificent 20 foot replica of a Viking ship that is featured in the Starlight Parade.
Oaks Park: The American-made 1912 Herschell-Spillman hand-carved menagerie carousel is featured on the National Historic Register and has been in the Oaks Park midway for over 100 years. The Oaks Park train allows for views of the grounds and park. Both of these attractions are free. If you would like to go on any of the other amusement rides, a separate ticket is required through Oaks Park.
Join us in celebrating the festival that attracts audiences and vendors from across the Pacific Northwest. The Oregon Midsummer Festival is an important event for the entire Portland Community regardless of heritage. See the traditions of the region that make up 10% of the population of Oregon's ancestry. This all day event is one of the many ways Nordic Northwest, along with the Nordic organizations that make up our community, demonstrate and celebrate their Nordic heritage.