Nat Eats Offering Pickup & Delivery in SE Portland | Homemade Quiche Featuring Locally Grown Ingredients, Tomato Pie
From our sponsors: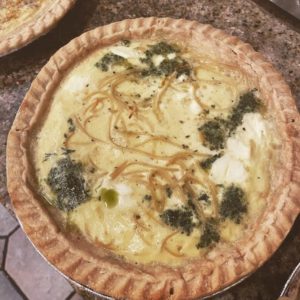 Nat Eats
$25 a Quiche
More info: Instagram
Do you miss brunch? Are you tired of cooking? Nat Eats now offers a limited quantity of homemade quiche for pickup and delivery each week!
My quiche is lovingly and sanitarily made in a commercial kitchen in SE Portland using high-quality ingredients and vegetables grown in my own garden!
PRICE: One 10-inch pie is $25. Delivery is available in SE Portland for a $5 fee. Contactless pickup is also available!
HOW TO ORDER: Email [email protected] by noon Wednesday to claim your pie!
Menu Option for September 6-7:
(Order by 2p September 2)

The Lil' Duzy: Slow roasted chocolate cherry tomatoes, garlicky sautéed kale and Asiago cheese
Tomato Pie:

Tomato Pie is a Southern delicacy consisting of the freshest tomatoes you can get your hands on, caramelized onions, basil, sharp cheddar and mayo! The tomatoes cook down into jammy deliciousness and the cheddar/mayo topping becomes golden brown.

Tomato Chili Jam