McMenamins Celebrates 40 Years | Food & Drink Specials, Passport Stamp
From our sponsors: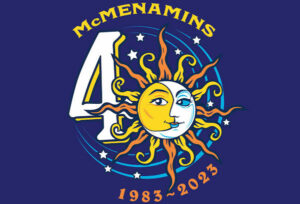 McMenamins 40th Anniversary
July 3, 2023
All Day | All Ages
More info: mcmenamins.com
In the summer of 1983, the Barley Mill Pub opened its doors, unleashing what would become a whirligig of beer, fun, music and more. It all started with two brothers trying to perfect their idea of a neighborhood gathering place for all. Grateful Dead filled the air and the first pint was poured. Three months later, the Greenway Pub opened with 33 taps – a record for the time – and the now iconic fish tank.
We're celebrating 40 years with an all-day special: a burger & a pint of McMenamins beer for $19.83! Cheers to where we've been and where we're headed next!
Burger options, served with fries or tots:
JR's Jumbo Deluxe Burger
Captain Neon Burger
Dungeon Burger
Communication Breakdown Burger
Bacon Cheeseburger
Cheeseburger
Mystic 18 (vegan)
Hammerhead Garden (vegetarian)
Check out the summer of anniversary festivities.