Adler Mechals Group Presents Master Your Retirement Plan During Any Market Conditions | Free Workshop, Identify Risks & Stay on Track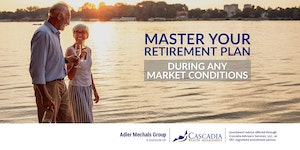 Master Your Retirement Plan During Any Market Conditions
June 23, 2020
6-8PM | Free
More info: eventbrite.com
A strong financial plan is always prepared for the unexpected and uncertain economic conditions. This workshop will help you identify the risks commonplace in financial planning and teach you how to mitigate those risks to keep your financial plan on track at all times, regardless of market conditions. The workshop closes with an actual case study in income planning.
From this workshop you will:
Identify the different risks that may stand in your way to a successful retirement plan.
Learn risk mitigation techniques to keep you on track.
Discover the building blocks to bulletproof all plan against all market conditions.
See a case study to an income plan applicable to all stages of life planning.
Presented by Adler Mechals Group, Division of Cascadia Wealth Management.
---
PDX Pipeline Free Community Promotions
This is a FREE local listing provided by PDX Pipeline. Do you have a local business and want a free promotion? Fill out our form here: pdxpipeline.com/local