Low Gravity: Bass In Space! @ The Den Portland | 2 Rooms of Intergalactic Variety, Outer-space Theme & Decor, Costumes
From our sponsors: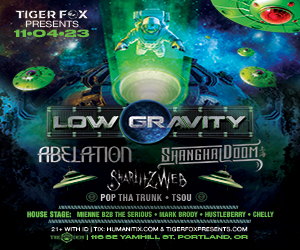 Low Gravity
November 4, 2023
9PM | $15-$25 | 21+
More info: events.humanitix.com
The Den
116 SE Yamhill St, Portland, OR 97217
Tiger Fox Presents
LOW GRAVITY: Bass In Space!
Earthlings and extraterrestrial beings unite for an out-of-this-world experience celebrating the LOW END BASS of electronic music. Join us for 2 rooms of intergalactic variety featuring talented out-of-town and local BASS & HOUSE DJs, all with an outer-space theme and decor! Dressing up is highly encouraged, so let's make it weird! Whether you're an astronaut coasting through the atmosphere, a little green person, or Princess Leia herself, the BASS STATION at LOW GRAVITY has a place for us all!
Main Stage
•co-headlining•

⫷ Abelation ⫸
SOUNDCLOUD
INSTAGRAM
⫷ Shanghai Doom ⫸
SOUNDCLOUD | INSTGRAM
•support• 
⫷ SHARLITZ WEB ⫸
SOUNDCLOUD | INSTAGRAM
⫷ POP THA TRUNK ⫸
SOUNDCLOUD | INSTAGRAM
⫷ TSOU ⫸
SOUNDCLOUD | INSTAGRAM
House Stage 
⫷ Mienne B2b The Serious ⫸
SOUNDCLOUD | INSTAGRAM (Mienne)
SOUNDCLOUD | INSTAGRAM (The Serious)
⫷ Mark Brody ⫸ SOUNDCLOUD
⫷ Hustleberry ⫸ SOUNDCLOUD

⫷ Chelly ⫸ SOUNDCLOUD