Immerse 2021 – A Virtual Benefit for The Freshwater Trust | Behind The Scenes Opportunity, VIP Care Package
From our sponsors: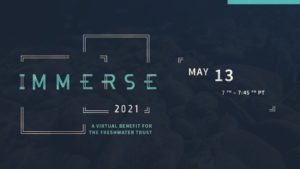 Immerse 2021 – A Virtual Benefit for The Freshwater Trust
May 13, 2021
7-8PM | $20-$100
More info: thefreshwatertrust.org
Tickets: eventbrite.com
Despite spending $2 trillion over the last 60 years, more than half of America's rivers remain impaired under the Clean Water Act. How we are managing water isn't working, and that has massive implications for the resiliency of our world.
After nearly 40 years, The Freshwater Trust (TFT) knows what our sector is missing to accelerate the pace and scale by which we fix freshwater ecosystems. Our rivers and aquifers need meaningful, lasting solutions that are data-driven, holistic, strategic and targeted. And most importantly, these strategies are needed at the basin scale. At Immerse 2021, a virtual benefit for TFT, you'll have the behind-the-scenes opportunity to immerse yourself in TFT's analytical approach and data-driven work to fundamentally change how all rivers are fixed. You'll hear about the current state of the organization and meet some of TFT's brilliant staff working on this big, hairy problem. Most importantly, you'll play a fundamental role in helping us solve it.
Ticket Information
This will be a ticketed event with two tiers: An individual price ($20) and a VIP price ($100). We are fortunate to be partnering with incredible brands, including Jacobsen Sea Salt, Hood River Distillers, and YETI to offer all our VIPs a care package straight to their door in advance of May 13. VIP care packages will only be delivered to the Portland Metro area. Only 100 VIP tickets will be sold.
Livestream Information
Ticket holders will receive a link via email to watch the livestream of the event on May 13, beginning at 7 p.m. PT.