Portland Film Festival Presents Humanity Stoked @ Oregon Shore Crab Theater | Featuring Q&A w/ Filmmaker, Cast Member, & Pro Skater/Artist, Sebo Walker
From our sponsors: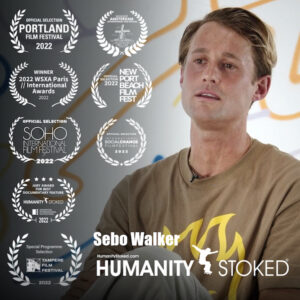 Humanity Stoked Screening + Q&A
October 18, 2022
9:45PM | $15 | All Ages
Use code STOKED for discount at HumanityStoked.com/tickets
Oregon Shore Crab Theater
990 Lloyd Center, Portland, OR 97232
Portland Film Festival screening Plus live Q and A with filmmaker and cast member, pro skater/artist, Sebo Walker
Humanity Stoked is a feature length documentary featuring world-famous skateboarders, scientists, artists, musicians, activists and educators, all of whom share a love of skateboarding. The iconic cast, respected as leaders in their fields, reveal their unique experiences and insights on being human. Their perspectives on issues that affect humanity's ability to move forward together are shaped by their own backgrounds, and often inspired by their love of skateboarding. The conversations focus on understanding fear, depression, addiction, education, activism, philanthropy, racism, sexism, homophobia, and the environment. The film's purpose is to inspire deeper thinking, and more empathic perspectives about people and the world around them.
Humanity Stoked was produced entirely for free by team of dedicated volunteers. The film's Producer/Director, and life-long skater, Michael Ien Cohen, the entire crew of Revere 8 Films / WhatStopsYou.org Foundation, and all 3rd parties involved have refused salary and compensation of any kind. As result, 100% of the revenue from the film and merchandising goes directly to charity, to help make positive and long-lasting change in the lives of children and young adults around the world, especially in low socio-economic areas. This film is a mission of love and everyone involved is passionate about inspiring deeper thinking and positive change in the world.
Jury Prize Winner: Best Feature Documentary – Edmonton International Film Festival
Winner: Best Feature Documentary – Amsterdam International Film Festival
Winner: Best Inspirational Film – WSXA Paris International Film Awards