Horizons Northwest 2023 @ Portland Art Museum | Pacific NW's Largest Psychedelic Learning and Community Event, Meet Local Leaders & Experts, Promo/Discount Code
From our sponsors: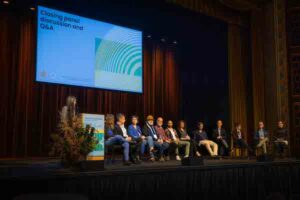 Horizons Northwest 2023
December 1-3, 2023
3-Day Pass Starts at $545
Day Pass Starts at $195
More info: horizonspbc.com
Use code PDX-NW-15 for 15% off registration
Portland Art Museum
1219 SW Park Ave, Portland, OR 97205
You are invited to Horizons Northwest, December 1-3 at the Portland Art Museum for three days of learning and networking about Oregon's Psilocybin Services Act regulatory system, as well as national and global dialogues about the many dimensions of psychedelics.
Register for Horizons Northwest to learn from more than 40 local and visiting leaders throughout the field of psychedelics, including local experts like Angela Allbee, MPA, Manager of the Oregon Psilocybin Services at Oregon Health Authority, Heidi Pendergast, Oregon Director for Healing Advocacy Fund, and Dr. Christopher Stauffer, psychiatrist and researcher at the Portland VA Medical Center, Dr. Nathan Sackett of the University of Washington, as well as nationally and internationally recognized speakers like David Bronner, CEO of Dr. Bronner's, Mona Polacco of the International Council of the 13 Indigenous Grandmothers, and Dr. Rosalind Watts of ACER Integration (UK), and dozens of others.
The mission of Horizons is to help the public understand the world of psychedelics, and we have been producing conferences for over fifteen years, and are pleased to return to the Portland Art Museum for our second year in the Pacific Northwest.
Horizons Northwest is produced in collaboration with the Sheri Eckert Foundation, a Portland-based charity whose mission is to ensure that Oregon's evolving psychedelic ecosystem includes professionals and participants from diverse backgrounds, financial means, and geographies around the state.
In addition to three full days of conference programming, attendees can enjoy networking in our community lounge to meet with local and national companies and organizations, enjoy lunch with friends old and new, and join our community allies for an eclectic mix of evening festivities.
Registration costs are tiered for accessibility. See HorizonsPBC.com/Northwest for more information. Use promo code PDX-NW-15 for 15% off your registration. We hope that you can join us.