Honeybee Lemonade Syrups Features Locally Produced, Handmade Products | Mix Into Sparkling Water, Cocktails, Yogurt & More!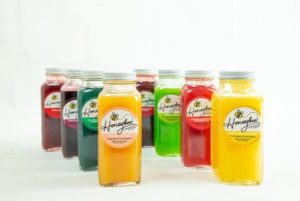 Honeybee Lemonade Syrups
More info: honeybeelemonades.com

Honeybee Lemonade Syrups was originally served to customers with sparkling water from the window of a food cart by myself, Andrea Wade, Honeybee Lemonade Syrups' hit the shelves in 2019. From day one, customers found Honeybee Lemonade Syrups to be unique and crave-worthy. It was the popularity and positive feedback during this time that inspired me to bring my syrups to market. Honeybee Lemonade Syrups are all-natural artisan syrups, free from preservatives and artificial flavors and sweeteners. We hand-make, bottle, label, box and ship all in and from Portland, Oregon.
We create, produce and distribute unique syrup flavor profiles that are delicious, creative and fun. They are all natural organic honey lemonade syrups made with whole fruit. There is nothing else on the market like my product. It can be utilized in a variety, from adding them to sparkling water, yogurt, making milkshakes, cocktails, marinades, no proof cocktails, to topping them on desserts, pancakes, waffles, snow cones to whatever the consumer's heart desires.
Available Honeybee Lemonade Syrup flavors are: Mango Coconut Jasmine, Rhubarb Strawberry Raspberry Lime, Peach Lychee, Triple Cherry Lime, Raspberry Blackcurrant, Blue Magic: Madagascar Vanilla Meyer Lemon and Jamaican Sorrel.
Currently, syrups are selling in 11 Market of Choice, 22 New Seasons Markets, 5 Tender Loving Empires and PDX Airport in Concourse D.
---
PDX Pipeline Free Community Promotions
This is a FREE local listing provided by PDX Pipeline. Do you have a local business and want a free promotion? Fill out our form here: pdxpipeline.com/local