Hip Chicks Do Wine Open Weekends in SE Portland | Tastings, Oldest Urban Winery in Portland
From our sponsors: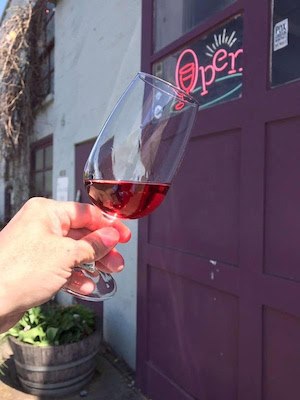 Wine Tasting
Open Friday-Sundays starting January 6, 2023
Fridays 2pm – 6pm
Saturdays Noon – 5pm
Sundays Noon – 5pm
More info: hipchicksdowine.com
Special Holiday Hours
Noon – 5pm Friday 12/30
Noon – 3pm Saturday 12/31
Hip Chicks Do Wine
4510 SE 23rd Avenue, Portland OR 97202
Taste 5 wines for $20 with a bonus pour of Seasonal Sangria.  Sangria is typically only available Saturday/Sunday but if we have additional you will get a sample with your flight on other days as well. If Sangria is not available you will receive a bonus pour of another wine from our list.
First and third Saturdays of the month are Sangria Saturdays and the flight includes 3 Sangrias and 3 wines.
Some weekend events may have themed pairings we recommend you look at our event calendar to be aware of the events and specific pricing for each. To purchase tickets directly to any of the special events instead of making a reservation here please see hipchicksdowine.com where there will be additional information on the events.
FREE DELIVERY OF WINE IN THE PORTLAND METRO AREA
6 + bottles get FREE delivery throughout the Portland Metro Area
less than 6 bottles it's $15 delivery charge in Portland or $20 in the surrounding suburbs. Plus get discounts on 6 and 12 bottle purchases (see our website for coupon codes).
Belly Button Wine Pre-Release Special
Having you been missing the Belly Button Wine as much as we have?
We will be officially releasing this yummy wine on April 1st. But in the meantime we are offering 30% off a 6 pack now through Sunday March 26th.
Order online and we can hold it for pick up or schedule a local home delivery for you!
Regular price for 6 bottles is $114 ($19 per bottle) and pre-release price is $80 ($13.33 per bottle).