Hip Chicks Do Wine Open Extended Hours Christmas Week | 30% Off Case Sale, Free Local Delivery
From our sponsors: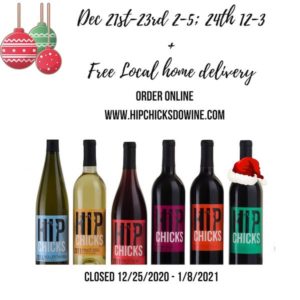 Hip Chicks Do Wine Open Extended Hours Christmas Week
Open 2-5PM December 21-23, 2020
Open Noon-3PM December 24, 2020
Closed December 25, 2020 -January 8, 2021 – Delivery Still Available
Open Saturdays Noon-4PM Starting January 9, 2021
More info: hipchicksdowine.com
Hip Chicks Do Wine
4510 SE 23rd Avenue
The week of Christmas Hip Chicks Do Wine will be offering daily delivery and have limited hours at the winery.
Case Sale Extended!
We decided to extend the case sale through Tuesday 12/22. Place an order for 12 bottles online between now and Tuesday 12/22 you can get 30% off your case.
Use coupon code "HOHOHO"
Order online for delivery or pick up. They are open for you to come in and shop as well. We'll have plenty of Holiday Sangria made and available by the growler fill or in Quarts.
FREE local delivery on 4 or more bottles from Vancouver to Oregon City and Gresham to Hillsboro. FREE shipping on 6 or more bottles with discount codes on 6 and 12 bottles posted on the website.
Monday Delivers are to Milwaukie/Gladstone/Oregon City/Happy Valley
Tue/Wed are TBD based on orders
Thursday SW Portland/Beaverton/Tigard/Hillsboro