Win Tickets ($60): Gaylabration Presents: Into the Future @ Crystal Ballroom | Featuring DJ GSP, Revol Artists, Zari Art & more!
We are giving away a pair of tickets to Gaylabration Presents: Into the Future @ Crystal Ballroom on July 14. To win, comment below on this post why you'd like to attend. Winner will be drawn and emailed July 10.
———————————————
From our sponsors: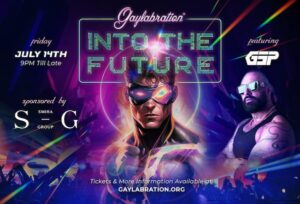 Gaylabration Presents:
Into the Future
July 14, 2023
9PM | $19-26 ADV, $30 Doors
More info: crystalballroompdx.com

Crystal Ballroom
1332 W Burnside St, Portland, OR 97209
Gaylabration actively raises funds to support the LGBTQ Community's health, education, safety, and equality via charity dance events.
The first Gaylabration was launched in 2011, following the passage of marriage equality legislation in New York, as a way to celebrate love and community. While the United States continued to deny same-sex couples in Oregon and throughout the nation the right to wed, our community chose to unite in support of marriage equality. Now, with LGBT rights a recurring issue we unite once again in celebration and support. Gaylabration has also evolved to become the featured dance party of Pride weekend and therefore expanded its mission to include enhancing the dance music scene in Portland by bringing in premier DJs and production.
The Gaylabration Portland Pride Event is an annual dance party and fundraiser taking pride in celebrating the diversity of love and relationships in our community.
DJ GSP
GSP (alias George Spiliopoulos) is a USA-based, International DJ/Producer, Promoter and event producer. He is also owner of the record labels Queen House Music and QSQUARED. GSP had been DJing in Greece for many years at the most important events and major clubs, until the winter of 2010 when he started exporting his talent in Europe. His main goal is to make people happy.
REVOL Artists
Revol Artists was created from the group Just Hoopers. Originally a collaboration with our friends, the band Just People, Just Hoopers began to take on a life of its own. Our vision is to inspire communities to unite through innovative collaborations and movement. Revol Artists has a focus in unforgettable ambiance and choreographed hula hoop entertainment.
Zari Art
With his blend of grafitti, tattoo and graphic art, Damian Zari was greatly influenced by the works of Frank Frazetta, Jean Girard (Moebius), Richard Corbin, Da Vinci, Heavy Metal Magazine and the tattoo art of the bikers he grew up with. After spending many hours of his youth drawing instead of participating in school, he applied for work with an airbrushing company in southern California. He was handed an airbrush and told to figure it out. His talent landed him the job and he began his pursuit in art.
Portland Productions
Portland Productions is an event production company. They offer stages, lighting, audio, scenic, video, and custom event solutions. They will be providing lasers, Sharpy motion lights, and cryo jets for the event to make it our best year ever.
Laseronics
Laseronics Laser lights are the most vivid and saturated lights available. Laseronics contrast ratio unsurpassed any video technologies and their Lasers have the ability to reach out in three dimensions and shower the sky with cascading beams of light, embracing you in waves of moving light.
They are among the very best Laserists in the world! With a focus on live beam show performances, they offer fully preprogrammed laser shows and effects, using the most talented and knowledgeable Laserists available. Providing lasers for the most fashionable and fabulous parties throughout the world! Weather it is a chic dinner at the Pyramids in Egypt or a party on the worlds most elegant cruise liners, Laseronics is the choice.