Funtimes Presents Portland SHUT IN FEST | Artists and Creatives Showcase Talents Via Online Workshops, Exhibitions, Performances, & Interactive Works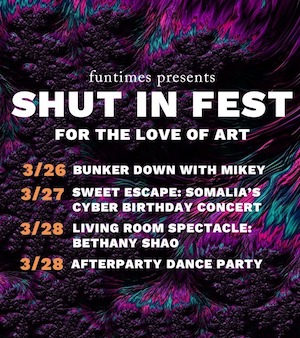 SHUT IN FEST
More info: funtimes.lol/
Funtimes presents SHUT IN FEST
Join the pursuit of pleasure and higher vibration. Experience art of all mediums from around the world in our most intimate spaces yet.
Bunker Down with Mikey
Palo Santo salesman Mikey Hays invites you into his comfortable shanty to give you a break from monotony.
Thursday March 26, 2020 | 7p
Mikey Hays grew up in Portland, OR where he began taking acting classes in middle school. In high school, after watching the Marx Brothers' movie, A Night at the Opera, he found his true love: physical theatre. Since earning his BFA from Southern Oregon University, Mikey has worked closely with master teacher James Donlon, a pioneer in the modern, neo-classic clown and mime movement. Mikey is also a founder of the physical comedy troupe A Muse Zoo, and has toured their critically acclaimed show "The Truth" across the United States and Canada, in addition to his own one man show "Life's A Gas" that debuted at the Oregon Fringe Festival in 2019. He currently lives in Los Angeles.
Follow Mike on Instagram @stephaughn
Sweet Escape: Somalia's Cyber Birthday Concert
You're invited to celebrate R&B soul singer/songwriter Somalia's next journey around the sun.
Friday, March 27, 2020 | 6p
IT'S A PARTY. You're invited to celebrate Somalia's next journey around the sun. As an R&B soul singer/songwriter based in Atlanta, Georgia, Somalia has graced the stages of festivals, theatres, and auditoriums performing for more than 3,000 people at a time. Her music blends R&B, Neosoul, Jazz, and Hip-hop. Inspired by artists like Brandy, Tweet, Missy Elliott, and Jill Scott, Somalia uses her melodic vocal range and inspiring lyrics to show that R&B isn't dead and to captivate her audiences. With a background in dance, Somalia is most in her element when performing live. Grab your mimosas and come wish her a happy birthday but make sure to rearrange your bedroom or living room first, you're going to want space to move.
Living Room Spectacle – Bethany Shao
An interactive warm-up and Q&A session led by hand balancer, aerialist, and pilates instructor Bethany Shao, followed with a stunning handstand act.
Saturday, March 28, 2020 | Noon
Bethany Shao is a NYC-based handbalancer, aerialist, and Pilates instructor. Born and raised in California, she began her movement career as a child through competitive gymnastics and diving. She began training in circus arts 5 years ago and recently graduated from the Intensive Professional Program at Circus Warehouse in NYC. Like countless others, Bethany lost most sources of income due to COVID-19. Although her physical teaching jobs and performance opportunities are gone, she has been very lucky to be able to teach some Pilates classes online, and is very grateful for this opportunity to now perform online! Bethany is passionate about maintaining a dialogue of kindness and compassion as we all navigate these unprecedented times together.
Afterparty Dance Party
A dance party hosted on Zoom with a weirdo dj to groove to. This is for high vibers only.
Saturday, March 28, 2020 | 5p