Receive Up to $150 for Participating in Experis User Research Solutions Opportunity in Tigard | Wearable Technology, Private Sessions
From our sponsors: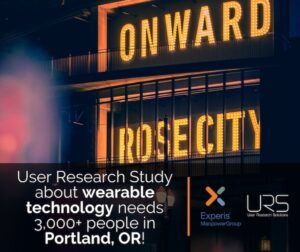 Experis User Research Solutions Opportunity
Time commitment: 2 Hours
Gratuity: Up to $150
Take the pre-screening survey at userinterviews.com.
We are looking for participants in the greater Portland area to take part in a user research study centered around a wearable technology!
The best part of this study is that anyone is eligible, because there are zero special qualifications or restrictions to take part! Our Tigard office will be hosting sessions that will include evening and weekend time slots. After taking the survey, we will reach out via email for scheduling Pick a time that works for you, and we can reschedule if anything conflicts with your session. Participate, then refer a friend who completes their session to receive an additional referral bonus!
This study will be running for the entirety of January and February (closed for major holidays), with new session times available weekly. So, be sure to check back in and feel free to ask any questions by reaching out to us at [email protected]. Sessions are done individually, and COVID protocols will be in place.
Take the pre-screening survey here: https://www.userinterviews.com/projects/3ZainlHIew/apply
For more information, including travel tips to get to our Tigard office, check out https://experisuserresearch.com/portland_wearabletech/