2021 Easterseals Walk, Run & Roll Benefit @ Oregon Zoo | Live Music, Scavenger Hunt, Costume Contest
From our sponsors: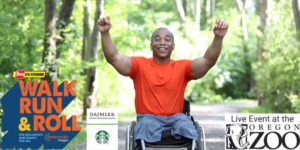 Easterseals Walk, Run & Roll Benefit
August 28, 2021
7-10AM (Registration Includes All-Day Zoo Admission)
Adults $45, Children $35 | All Ages
Use code PIPELINE5 for $5 Off at eastersealswalk.org
Oregon Zoo
4001 SW Canyon Rd, Portland, OR 97221
When was the last time you attended a charity walk & roll where you might see an elephant and participate in a scavenger hunt with your family? How about a 5k fun-run/roll where you'll pass by some giraffes and hear some live local music? I bet this is your first chance for that. Easterseals Oregon presents our inaugural in-person Walk, Run, & Roll event at the Oregon Zoo on August 28th to raise funds for our disability services, Veteran housing assistance programs, and job-skills development services across the state. Can't join us in person? Check out the virtual event the entire week of August 23rd through August 27th from anywhere in Oregon!
Courses include both a 5k fun-run/roll and a 1-mile walk, run, & roll. Times will not be posted for the fun-run, but we will have someone timing the event for those interested in their time.
The 1-mile loop includes a scavenger hunt for kids, and both courses pass by several of the animal habitats in the zoo, so you're likely to see animals (including the elephants and giraffes).
Activities/attractions include
Live music by Left on Tenth
Free Starbucks coffee & hot chocolate
T-shirts for registered participants
A shot at prizes for showing up in costume (best/most spirited costume contest)
Free ice cream sandwiches from Tillamook
Free chocolate milk from Alpenrose
A scavenger hunt with prizes for kids who complete it
Face painting (if direction from the CDC regarding masks does not change prior to the event)
The many wonderful animals of the Oregon Zoo
Registration includes admission to the Oregon Zoo for the entire day, but our event is from 7am until 10am.