Clark County 2021 NW Natural Parade of Homes in Vancouver, WA | Featuring 8 Luxury Homes, Timed Entry
From our sponsors: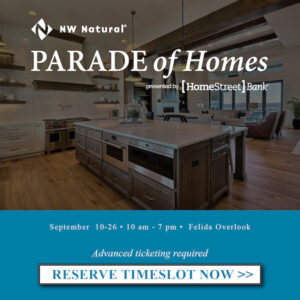 NW Natural Parade of Homes
September 10-26, 2021
Open 10am – 7pm, closed Monday and Tuesday
Special events: Hero Day, Sept. 11 & Builder/Realtor Day, Sept. 16
Full details and tickets available online at ClarkCountyParadeOfHomes.com
Location: Felida Overlook in Vancouver, WA
The Building Industry Association of Clark County (BIA) is excited to announce this year's NW Natural Parade of Homes presented by HomeStreet Bank will be held at Felida Overlook September 10-26. After a year off due to Covid-19, the NW Natural Parade of Homes is back, with eight gorgeous homes. New this year, we have timed hourly entry, and ALL tickets must be purchased online prior to arrival. See www.ClarkCountyParadeOfHomes.com for all info, parking directions, ticket buying options and more.
Falling in line with tradition, all homes have a price point of over $1 million and will feature square footages of more than 3,000 square feet. The NW Natural Parade of Homes will showcase the finest in luxury home trends in the Pacific Northwest – including new trends that have emerged as a result of the COVID-19 pandemic.
Eight builders and eight homes will be featured in this year's show: Affinity Homes (building two homes), Cascade West Development, Generation Homes Northwest, Ginn Group, Marnella Homes, Quail Homes, and Vilhauer Construction.
We are proud to announce that the Marnella Homes entry was a fundraiser for St. Jude Children's Research Hospital. All of the net profits from the sale of the home will be directly donated to St. Jude to support their mission of "Finding Cures. Saving Children."
BIA's Executive Director, Avaly Scarpelli notes, "With a variety of architectural and interior design styles, new or revitalized home trends emerging from experiences of the pandemic, and a robust housing market, this year's show will be unique. Our builders are elated to once again showcase their craftmanship, innovative designs, and passion for building the places we call home. We can't wait to see you at the NW Natural Parade of Homes!"
The NW Natural Parade of Homes will be implementing timed ticketing to mitigate any risks associated with large crowds and the ongoing response to the COVID-19 pandemic. Advanced purchase of tickets online is required.