Cider Summit Portland Festival To-Go Is Back for 2021! | Curated Tasting Experience, Pickup, Delivery, Shipping
From our sponsors: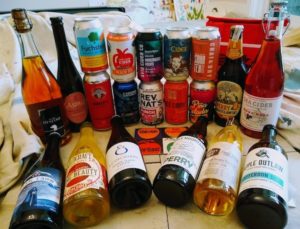 Cider Summit
Orders must be placed by 11:59 p.m. PST on Sunday, June 6, 2021
Available for pickup June 26, from Noon-3PM
Delivery Available
Order at cidersummitnw.com
Pick up Location: Memorial Coliseum Benton Lot
At the corner of North Broadway and North Benton
Cider Summit Portland is now accepting preorders for its Festival-To-Go Tasting Kits, as it announces its 11th annual local festival will be held virtually again this year. Cider Summit hosts the nation's largest cider festivals, and has successfully transitioned their in-person events to contact-free home tastings to ensure access and inclusivity during the pandemic.
The festival, which has previously been held at Fields Park in Portland's Pearl District, connects cider fans with a wide variety of cider brands and types, including limited-release, small-batch and hard-to-find bottles and cans. In moving Cider Summit to an online format, the organizers have worked to preserve the diversity of offerings while adding a more intimate online tasting event.
"Since early 2020, we've hosted virtual festivals in Portland, Seattle, Chicago and San Francisco, and every one is better than the last," said Cider Summit founder and producer Alan Shapiro. "Each time, we learn more about how to give our attendees the best possible experience, and we are really excited about this summer's Portland event."
Orders must be placed by 11:59 p.m. PST on Sunday, June 6. Pre-purchased kits will be available for pickup up at a drive-through event on Saturday, June 26, from 12 p.m. to 3 p.m. at the Memorial Coliseum Benton Lot, located at the corner of North Broadway and North Benton. Bike-up and walk-up pickups will also be accommodated with appropriate social distancing measures. Home delivery to select Portland/Vancouver-area zip codes is also available for an additional fee, with a delivery date of June 24 or 25. National shipments are available via partnership with Press Then Press.
"Cider makers have continued to produce outstanding products that people may not have had a chance to try because of dining and travel restrictions," continued Shapiro. "With our Festival-To-Go Tasting Kits, we can get world-class cider into the hands of cider lovers, and give them that first-person access to a really thoughtful and fun tasting experience."
This summer's festival offers a selection of three different tasting kits, each accompanied by a branded Cider Summit cooler bag, small promotional merchandise from Cider Summit and participating cidermakers and access to the virtual tasting event on Saturday, June 26th from 6 p.m. to 8 p.m. Attendees can choose from the following tasting kits:
Modern Styles – ($39.00+ fees/delivery options) 
2 Towns Cosmic Crisp (12 oz)
Anthem Bloom (12 oz)
Avid Marionberry Mojito (12 oz)
New West Pina Colada (12 oz)
Portland Cider Imperial Peach Tea (12 oz)
Reverend Nat's Punch (12 oz)
Square Mile Rose (12 oz)
Swift Pomegranate (16 oz)
Art of the Apple – ($59.00 + fees/delivery options) 
Apple Outlaw Jefferson Dry (16.9 oz)
Baumans McIntosh (16.9 oz)
Double Mountain Perry (16.9 oz)
EZ Orchards Hawk Haus (16.9 oz)
Seven Seeds Llyn Fawr (16.9 oz)
Wildcraft Rome Blush (16.9 oz)
Global Artisans – ($69.00 + fees/delivery options) 
Aspall Blush (16.9 oz)
Ciders of Spain Chai & Dry (12 oz)
Fuchshof German Cider (12 oz)
Kystin Brut (25.4 oz)
Miloslawski Perry (16.9 oz)
Sea Cider Ruby Rose (25.4 oz)
Cider Summit has also partnered with local pet food and treat producer, Portland Pet Food Company, to offer a 2-bag treat sampler to add your cider celebration. Their Grain & Gluten-Free Biscuit Pack may be added to your cart during the checkout process. Each sale benefits event beneficiary DoveLewis.
Cider Summit sponsors include First Tech Federal Credit Union, Portland Pet Food Company and Press Then Press along with media partner Cidercraft magazine. Cider Summit benefits the Cascade Blues Association, DoveLewis and Northwest Cider Association.