Chamber Music Northwest Presents Influences & Intersections 2022 Summer Festival | Featuring 60+ Events Across Portland
From our sponsors: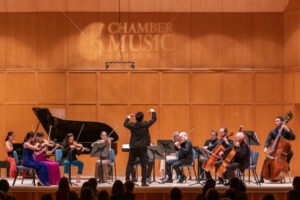 Chamber Music Northwest's Influences & Intersections 2022 Summer Festival
June 25-July 31, 2022
More info: cmnw.org
Citywide for five weeks — June 25 through July 31— the 2022 Summer Festival will be overflowing with musical influences and intersections – programs that tell the stories of how new and traditional chamber music merge and emerge into new work.
With 28 mainstage concerts, and loads of free community concerts across the Portland Metro-area, there's more than 60 events featuring dozens of world-renowned musicians, and stunning young artists, who are playing a vast range of incredible chamber music.
Nearly 100 artists from around the globe will converge in Portland for one of the biggest and most well-recognized chamber musical festivals in the nation. Ranging from Purcell, Debussy, Ravel and Crumb, to exciting contemporary composers Reena Esmail, Kenji Bunch and Andy Akiho, there's a range of styles and sounds for any music lover to enjoy!
This year's festival is truly citywide with concerts at The Reser in Beaverton, Alberta Rose Theatre in the NE Arts District, Reed College in southeast to midtown at Portland State, and The Armory at Portland Center Stage. And that's just the mainstage concerts. Community concerts range from Milwaukie to University of Portland, Gresham, and up to Vancouver, Washington.
Portland will experience the percussively spectacular Seven Pillars (Two-time Grammy-nominated, Pulitzer Prize-finalist) from Portland's Andy Akiho, Dawn Upshaw and the Brentanos' haunting new Dido Reimagined, and the world premiere of Portlander David Schiff's Vineyard Rhythms, which explores the seasonal beauty of Sokol Blosser winery.
For this summer music season, come see why Chamber Music Northwest's summer festival tradition has endured. With his year's fresh take on programming, and continued mission to explore the range of today's chamber music — from honoring classics, to exploring new compositions created by award-winning composers — CMNW's 2022 Summer Festival is brimming with exhilarating music.