Cafe de Crepe Food Truck Open @ Portland Farmers Markets | Savory & Sweet, Milwaukie, St. Johns, Hillsboro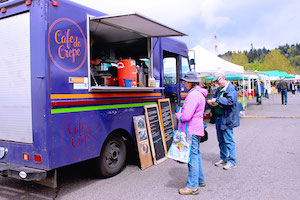 Cafe de Crepe
More info: cafedecrepe.com
Cafe de Crepe food truck offers breakfast, savory and sweet crepes at customers' locations. We bring fresh and fun to your event! There is no more event because of the pandemic, but you still can find us at our farmers' markets listed below.
Milwaukie Sunday Farmers Market. Across the street from Milwaukie City Hall. Every Sunday from 9:30 am – 2 pm.
St Johns Farmers Market. Next to St Johns Bachelor Club. Every Saturday from 9 am – 2 pm.
Hillsboro Farmers Market. Temporary location is at Washington County parking lot ( 1st ave & Lincoln st) Every Saturday from 9 am – 1 pm.
---
PDX Pipeline Free Community Promotions
This is a FREE local listing provided by PDX Pipeline. Do you have a local business and want a free promotion? Fill out our form here: pdxpipeline.com/local