Bozorth Beverages Offering Free Delivery in Portland Area | Mixers & Ready-to-Drink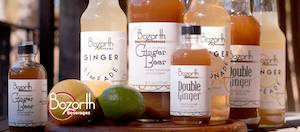 Bozorth Beverages
More info: bozbev.square.site
Use the coupon code FREEDELIVER at checkout for orders over $25
Bozorth Beverages crafts two types of products – Mixers and Ready-to-Drink. They are:
Mixer Syrups
Ginger Beer
Double Ginger
Ready-to-Drink
Apricot Lemonade – 27% juice
Blackberry Lemonade – 23% juice
Ginger Lemonade – 26% juice
Ginger Limeade 17% juice
Raspberry Lemonade 26% juice
Strawberry Limeade 25% juice
All of their ready-to-drink beverages have been meticulously derived. Their mixers are made with 17% juice/puree, while the fruit lemonades and limeades contain a minimum of 23% fruit juice. There are countless beverages on the market, but these offerings have tested their mettle here in Portland, and their success rides on the refreshing taste-sensation we provide. We make very fine mixers and beverages.
Currently, they are offering free delivery in Portland area, for orders over $25.
Use the coupon code FREEDELIVER at checkout.
Bozorth Beverages is located in North Portland, and offer delivery in the Portland Metro area, with shipping outside the area.
Also, they have pre-order pick-up available at Orenco Station and Hawthorne Farmers Markets.
---
PDX Pipeline Free Community Promotions
This is a FREE local listing provided by PDX Pipeline. Do you have a local business and want a free promotion? Fill out our form here: pdxpipeline.com/local